Before it even airs, the 2012 BET Hip Hop Awards has already become the stuff of legend with rap superstars Rick Ross and Young Jeezy fighting backstage and shots being fired in the parking lot!  Details inside.....
Two of hip hop's biggest superstars, Rick Ross (shown above on the red carpet) and Young Jeezy, got into an altercation backstage in Atlanta tonight at the 2012 BET Hip Hop Awards.
Sources report that the two got into a verbal altercation which led to pushing and shoving.  The rappers' bodyguards and BET security intervened and broke the rappers up.
But after the backstage scuffle, Funkmaster Flex tweeted.....

then......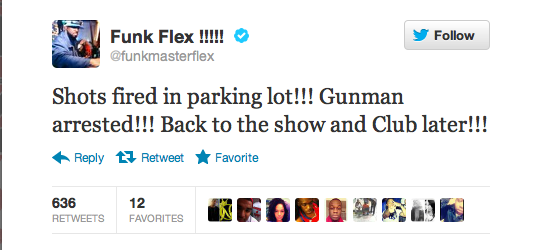 Apparently the argument spilled outside and a member of Rick Ross' entourage pulled out a gun in the parking lot and shots were fired.
What happened to the gunman isn't known at this time but Rick Ross and Young Jeezy remained at the awards.
We will keep you posted....