The season barely even started and Ezekiel Elliot is already in hot water.  Again.  Deets inside on his suspension, and all the people who are interestingly defending him even after the alleged victim reveals her bruises...
Every time Cowboys fans think "this is our year," they get hit with a "not so much." 
Star running back Ezekiel Elliot was just officially handed a 6-game suspension due to recent domestic assault allegations.  According to the report, he's being accused of attacking his then-girlfriend Tiffany Thompson 3 times in a week in 2016 at an apartment complex.  Tiffany reported the incidents to the Columbus, Ohio police department.
While prosecutors did not find Ezekiel liable, the standard the NFL uses to determine guilt is much lower.  And they are railing the baller based on their own investigation...
Three incidents were described in a letter from the league to Ezekiel:
INCIDENT #1 On July 17, the NFL says Elliott attacked Thompson at the Canvasback Lane apartments in Columbus, Ohio. "You used physical force that caused injuries to Ms. Thompson's arms, neck and shoulders."

INCIDENT #2 On July 19, the NFL says there was another altercation at the Canvasback Lane apartments. "You used physical force that caused injuries to Ms. Thompson's face, arms, wrists and hands."

INCIDENT #3 On July 21, the NFL says there was a 3rd incident at the Canvasback Lane apartments. "You used physical force that caused injuries to Ms. Thompson's face, neck, arms knee and hips."
The NFL also approached prosecutors about why Ezekiel got of scott free, when the league concluded themselves that Tiffany was not lying. TMZ reports:
The league says it went to prosecutors to find out why Elliott was not charged with a crime. The NFL was told, "We never concluded that she was lying to us ... we generally believed her for all of the incidents."

Prosecutors had previously said there was "conflicting and inconsistent information across all incidents, resulting in concern regarding the sufficiency of the evidence to support the filing of criminal charges."
Ezekiel denies any wrong doing, and calls the accusations inaccurate B.S.  Here's his statement from his reps:
"Mr. Elliott and his team of representatives are extremely disappointed with the NFL's decision," the Dallas Cowboys star's camp said in a statement. 

"The NFL's findings are replete with factual inaccuracies and erroneous conclusions and it 'cherry picks' so called evidence to support its conclusion while ignoring other critical evidence."

"For example, both the Columbus Prosecutor's office as well as the NFL investigators expressly concluded and conveyed to our office (and others) that the accuser was lying about an alleged July 22, 2016 incident whereby she accused Mr. Elliott of pulling her out of her car and assaulting her. An allegation that was ultimately undermined by her false allegation of assault."

"In addition, the NFL's own medical experts concluded that many of her injuries predated the week in question and likely occurred during a period of time when Mr. Elliott was not in contact with the accuser."

"During the upcoming weeks and through the appeal a slew of additional credible and controverting evidence will come to light."
Meanwhile, Tiffany is showing the world pics of her bruises from the alleged incidents: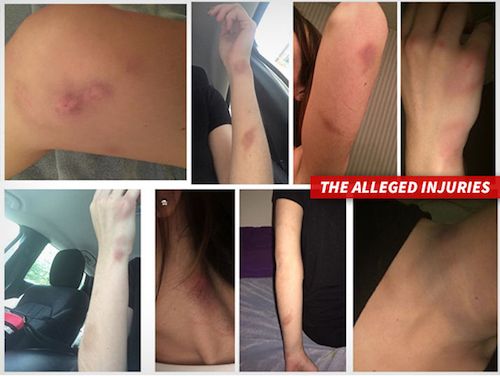 Ezekiel says she's lying, and that she got those bruises in a bar fight.
The Cowboys baller being involved in several off-field incidents lately -- including lifting up a girls' shirt at a party and this alleged bar fight -- seem to have not shaken his fans at all.  He's getting plenty of praise on his social media platforms.
Bottom line: The NFL believes he brutally attacked his girlfriend, but Ezekiel will still have a job to return to when the suspension is over.  Would love to know what Colin Kaepernick thinks about it all.
Photo: TMZ/IG