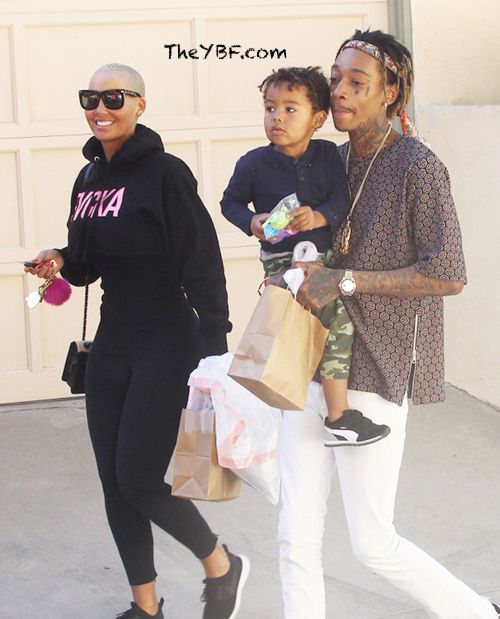 Wiz Khalifa is caught in the middle of a lawsuit launched against his ex-wife Amber Rose by his mother Katie "Peachie" Wimbush-Polk. Yikes!
More inside…
It's some messy ish going on between two of the ladies in Wiz's life. While Wiz Khalifa may get along with and co-parent well with ex-wife Amber Rose, apparently, Amber and his mother do NOT get along.
So much so, Wiz's mother, Katie "Peachie" Wimbbush-Polk, has pulled the trigger on a defamation lawsuit against the Slut Walk creator.
According to the Washington County Observer-Reporter, Peachie wants to drag Amber into court over a "profanity laced" phone call where Amber allegedly accused her -- to a third party -- of being a negligent parent.
It gets worse. Amber allegedly blamed Peachie for the death of Wiz's sibling, Dorien.  During a heated phone conversation, Amber said Peachie was now unfit to watch her little grandson Sebastian Thomaz (who Amber shares with Wiz).
The site reports:
[Amber Rose] Levonchuck, a resident of Tarzana, Calif., is alleged in the suit to have made a call June 19 to a phone linked to Wimbush-Polk's account. The person who had the phone that day was a friend and former employee, Danesa Letic, who was in Louisiana, the suit claims.

Letic's 5-year-old niece actually answered the call, and the suit alleges Levonchuck immediately "launched into a profane attack." The niece gave the phone to her aunt, who eventually was able to identify herself. According to the suit, even after knowing she was speaking with a third party, the caller alleged Wimbush-Polk had allowed her own child, Dorien, to die and she was unfit to visit or care for Levonchuck's and Khalifa's 4-year-old son, Sebastian.

Khalifa's sibling, Dorien Thomaz, died Feb. 20, 2017, of complications from lymphoma.
Yikes.
So, what prompted the call?  Child protective services were called on Amber, however Peachie claims she "made no such report at or around that time."
Peachie's lawyer claims Amber "impute(d) criminality," which is "incompatible with her status as a grandmother and her status as a volunteer mentoring at-risk youth," which require adults to have cleared background checks.
Wiz's mom is gunning for more than $50,000, which includes court costs, interest, punitive and other damages.
Damn! Wiz is stuck between a rock and a hard place.
Photo: FameFlynet