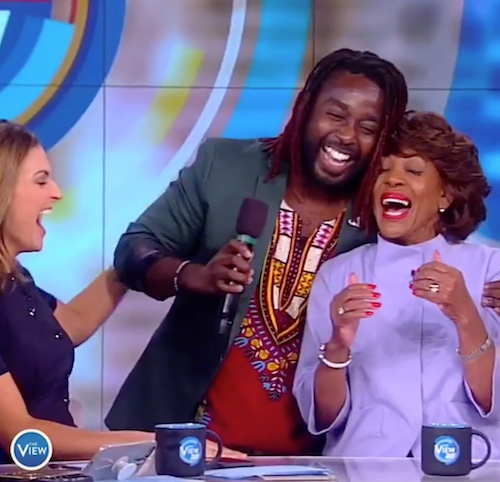 Auntie Maxine got the surprise of life today while chatting (and by chatting we mean reading) the ladies of "The View."  Get into how she reclaimed her time again inside...
Congresswoman Maxine Waters hit up the talk show circuit to let folks know she's still the originator when it comes to calling out Trump for the foolywang material that he is.  After explaining why he needs to be impeached, and why she will give him zero credit for the high job rate (it was inherited from the previous President that Trump hates so much), she got a hilarious surprise.
Recently, Congressional Clapback Queen Waters went viral for going off on Treasury Secretary Steve Mnuchin in a House Financial Services Committee hearing. She questioned the secretary on why he never responded to a letter she sent in May regarding President Trump's financial ties to Russia, and when he stalled and B.S.'d during her allotted time, she checked his a** and reclaimed her time back. It pays to know Roberts Rules & the House rules!
The exchange went viral, and Youtuber Mykal Kilgore turned it into a bomb gospel song. Of course. Check out what happened today on "The View":
Ha!
By the way, Happy 56th Birthday President Obama!