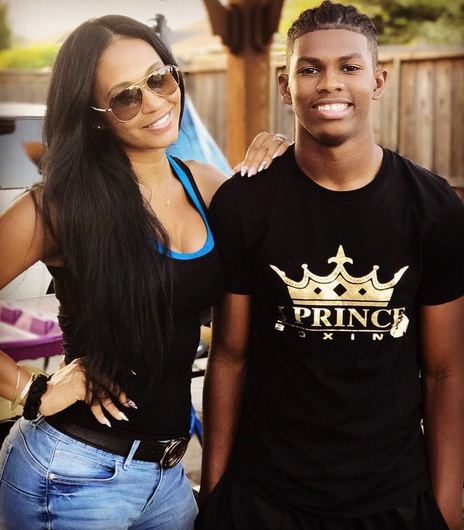 Yikes! Deion Sanders' son Shilo Sanders lets the world know he's more than happy to be back in his mother Pilar Sanders' custody.  And he threw some shade at his pops. Find out what he said inside…
It's no secret Deion Sanders and Pilar Sanders went through one of the messiest celeb divorces…ever.
Their 14-year marriage crumbled and they both aired out their dirty laundry via social media and everywhere else. There were accusations of infidelity, domestic abuse, child abuse and money drama. Not only that, they were at each other's necks over custody of their three children. Eventually, Deion was awarded full custody.
Now, their eldest son Shilo Sanders is chiming in. Apparently, Pilar has won back custody of the kids, and Shilo is here for it. He posted an Instagram picture of himself and his mother thanking the court system for reuniting him with his mother. And he even threw in a shot at his dad.
The 17-year-old wrote, "After what seems like forever, I'm finally officially back full time with my mom! My mom having full custody of me is all I have wanted for years, Thank you to the court system for finally seeing the truth, and putting me in a healthy loving environment."
Wow. He clearly wasn't feeling living with the NFL Hall of Famer.
You'll recall, Deion filed a defamation suit against Pilar where a judge ordered her to cough up $2.2 million.
It seems Shilo's parents' drama started having an affect on him. His parents were hit with a lawsuit after he brutally attacked a Dallas high school employee for taking his cell phone.
Things appear to be on the up and up now though. Shilo has been offered a full ride at SMU on a football scholarship. He has also received offers from Oregon and Texas A&M back in June. At least he got something out of being his Hall of Famer dad's son: Good athletic genes.  
Photo: Shilo's IG