La La Anthony speaks out for the first time since her newest sex scene in "Power" aired and she's responding to the negative backlash she has received. Also, she addresses whether she and Kofi Siriboe exchanged numbers after he tried to shoot his shot. Get it all inside…
La La Anthony was trending on Twitter Sunday night after her newest sex scene aired on the hit crime drama "Power."
Luckily for her she missed the initial shock factor online because she was luxuriating in Italy with her fans (and she has the HOT Instagram posts to prove it). Fresh from her vacay, she hit up Power 105's "The Breakfast Club" to chat about one of the most talked about episodes thus far.
"Let me just say I was happy I was in Italy when it came on [her nude scene] because I'm glad I wasn't as aware of all the talk," she told the radio hosts.
She revealed she has received good and bad feedback about the sex scene with her now boyfriend Tommy Egan (Joseph Sikora). Apparently, people have a huge dilemma where they can't differentiate La La from her character LaKeisha. She said she really wishes people would realize it's not HER, it's her character.
La La revealed some fans have gone as far as calling her a bad mother for doing sex scenes on the show. Well, she's not here for all that talk. She said she's an actress and if her role requires her to get naked, she's going to do it because she takes her craft seriously. By the way, her son Kiyan Anthony is NOT even allowed to watch "Power."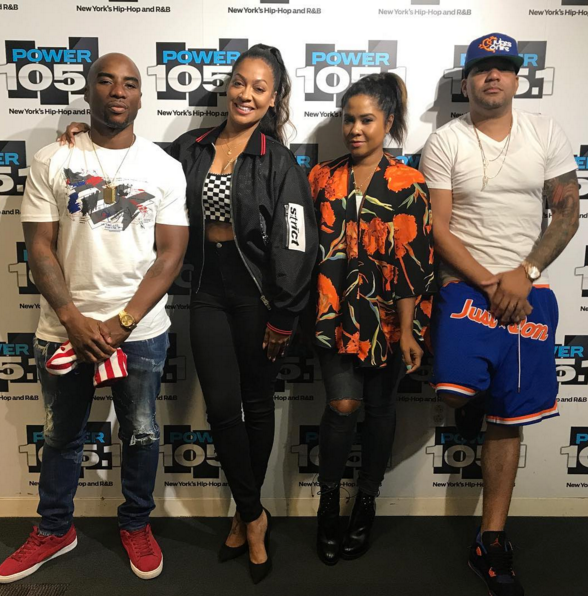 Before she even started shooting for the show, she said everyone was sat down and was required to sign a nudity clause. "You know at some point on Power, you have to get nude," she said.
So, how does her estranged husband Carmelo Anthony feel about the nudity scene? Well, she revealed she hasn't talked to him about it (yet). Interesting. We wonder if he watched it.
She called the sex scene in Episode 4 one of the most diffucult scenes she has ever shot. It took them over three hours to shoot and she said she's always a little self conscious when she sees it on TV because it's her body is put on display for the masses to critique.
When asked if she would be moving with Carmelo if he were traded from the NY Knicks, she said, "We're not at that place." She's adament that she's staying in NYC.
As for those Kofi Siriboe rumors….
There was talk that La and Kofi exchanged numbers after presenting at the 2017 BET Awards. She said she doesn't really remember if they actually exchanged numbers, but made it clear that they're "just cool and it's nothing like that."
Would she turn him down because he's too young?"I didn't say that. I just said he was young, I didn't say I would turn him down." Oh?

However, she's not concerned with dating at this point in her life.
Right now, she's just working on putting herself first, being a good mother to Kiyan and working on her career.
"I feel like I've been tested and I'm making it through. I definitely feel like I've been dealt a crazy hand recently, but I'm just making it through. Life goes on. Things happen and it's not what happens to you it's how you react to it."
Very true.
Peep the full interview below:
Photo: Pacific Coast News/Angela's IG