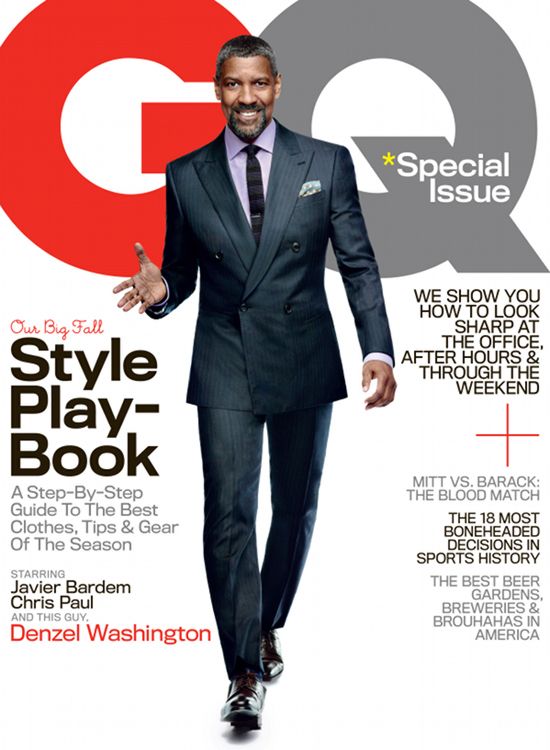 Denzel Washington covers the latest issue of GQ magazine where he dishes on some of his legendary roles and and how he got started in the business.  Get the deets inside......
In his 42nd flim, 2 Guns, actor Denzel Washington stars with Mark Wahlberg where they play a DEA agent and an undercover Naval Intelligence officer who've both set up by the mob.  Filmed in New Orleans, the role is sure to become another legendary mark on the fab actors' career.
And while dishing on a few of his fab roles, the actor donned a few dapper suits for the latest issue of GQ. Inside the mag, he dished on getting his start in the business, some of his legendary roles and the mantra he lives by in life.  Here are the highlights:
On his first memory of being onstage


I was around 7, 8, whatever I was. We did a talent show at the Boys Club. Me and another guy, Wayne Bridges—God rest his soul—he's the father of Chris Bridges, Ludacris. We decided to be the Beatles. So we went to John's Bargain Store and bought fake guitars and wigs and did "I Want to Hold Your Hand."

On his first gigs:


I remember something to do with Fruit of the Loom, but I don't think I got that. I did a Mrs. Paul's fish sticks. And I did a Burger King with Jeff Daniels. Or was it Mrs. Paul's fish sticks with Jeff Daniels? That was '77.


On his mantra:



I read from the Bible every day, and I read my Daily Word. I read something great yesterday. It said, "Don't aspire to make a living. Aspire to make a difference."


On meeting Frank Lucas for American Gangster:


I found a guy who can knock people off. How do you act that? When we were working on Man on Fire, [director] Tony Scott* sent me a tape about the Iceman, the guy that killed all of those people. Later I saw this footage of a young girl getting shot. She didn't do anything but drop. It's morbid fascination, but that's what I'm looking for. That's what I did in Training Day. After I get shot, there's no last speech. I want that reality.

On creating his "infamous" Training Day line:



A lot of credit goes to Antoine Fuqua, the director. He brought the gangster aspect into it. The script was more like a 2000 version of a Lethal Weapon kind of guy. That line "King Kong ain't got nothin' on me"—I made that up. The character's ego, he just did not think he could lose. That was his problem.

On feeling the Holy Spirit:



That was thirty years ago, at the church I still attend. The minister was preaching, "Just let it go." I said, "I'm going to go with it." And I had this tremendous physical and spiritual experience. It did frighten me. I was slobbering, crying, sweating. My cheeks blew up. I was purging. It was too intense. It almost drove me away. I called my mother, and she said I was being filled with the Holy Spirit. I was like, "Does that mean I can never have wine again?"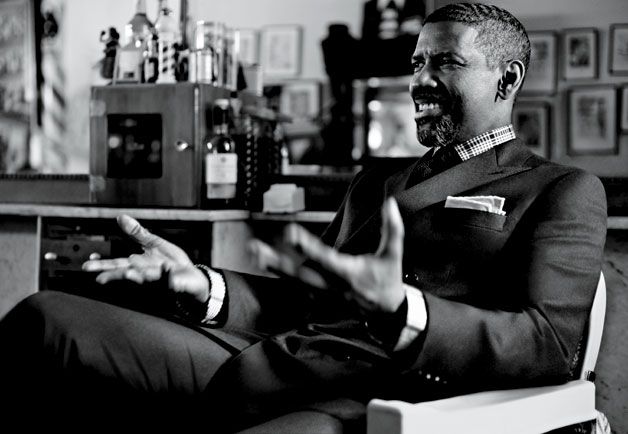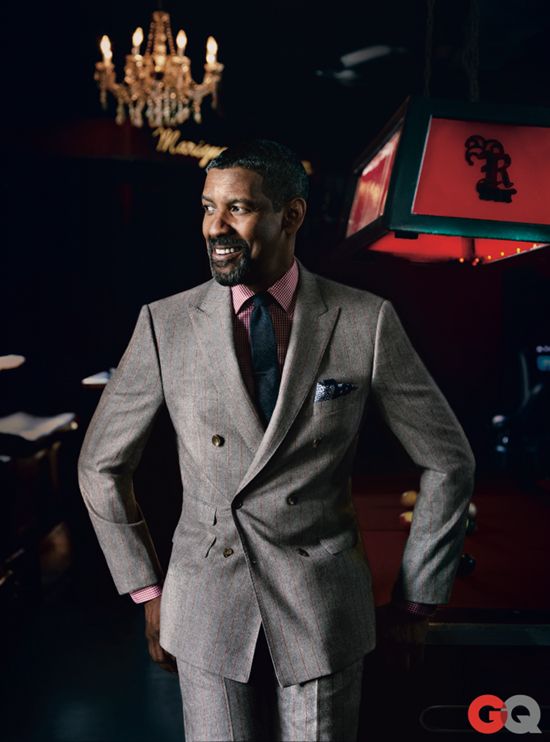 See more pics at GQ........
Photos via Nathaniel Goldberg / GQ