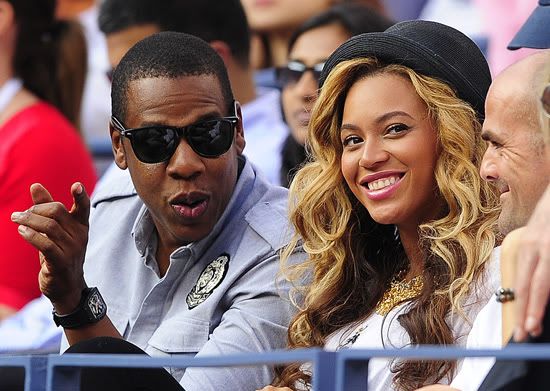 Jay-Z and Beyonce just released a statement about baby B.I.C. and how over the moon they are as new parents.  And they're putting the C-section rumors to rest, insisting Baby Blue was born naturally.  The Lenox Hill Hospital reps also revealed The Carters never bought out or closed off the maternity floor.
Check out the couple's first official statement just released inside...
Let the sweetness ensue.
Jay-Z revealed today, in the song "Glory" he made for his daughter, that a miscarriage occurred before Blue Ivy was conceived.  And now the duo feels their new baby girl is a magical gift.  Here's the couple's first statement released just moments ago about the natural birth:
Hello Hello Baby Blue!

We are happy to announce the arrival of our beautiful daughter, Blue Ivy Carter, born on Saturday, January 7, 2012.

Her birth was emotional and extremely peaceful, we are in heaven.

She was delivered naturally at a healthy 7 lbs and it was the best experience of both of our lives.

We are thankful to everyone for all your prayers, well wishes, love and support.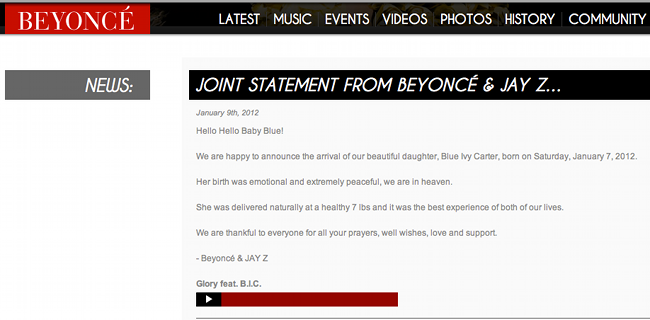 Now get to those diaper changes....
Another rumor cleared up today?  The Lenox Hill Hospital reps stated today the maternity wing/floor was never closed off to the public, and The Carters did not pay $1.3 million to do so:
"The suggestion that the couple paid $1.3 million to rent an entire maternity floor is simply not true."
The rep adds, "The family is housed in an executive suite at the hospital and is being billed the standard rate for those accommodations."
"The family does have its own security detail on site. However, the hospital has been and continues to be in control of managing all security at the facility. We have made every effort to ensure minimal disruption to other families experiencing the births of their own children over the past three days."
So there you have it...
Source: Beyonce's Official Website