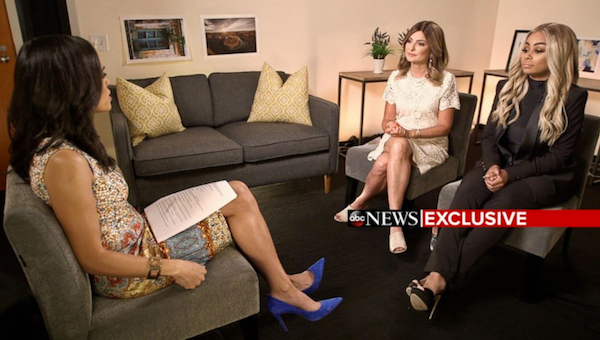 Blac Chyna just opened up for the first time on tv with her side of the drama involving Rob Kardashian.  Issa mess.  Check it inside...
Blac Chyna told Linsey Davis of ABC News this AM why she feels "betrayed" by Rob Kardashian.  In an interview that just aired on "Good Morning America," Chyna and her lawyer Linda Bloom -- think Gloria Allred for reality stars -- flipped the whole THOT script to make the world know it's Robert who is 100% in the wrong.
Chyna says she and Rob have been broken up since December, and he has been cyberbullying and pushing her buttons nonstop ever since.  She also denies ever "liking" any of the nude pics he posted because she claims she blocked him months ago.
As for why she sent him a video of her and another man I bed together, she says she basically snapped after he constantly pestered her, and she thought sending that type of video would finally make him stop.
Unfortunately for her, it made Rob flip out and drag those edges even harder.
While putting on her "I'm speaking to the bill collectors" voice and her "I'm going to court to collect my coin" outfit, Chyna told the world that she is speaking up on behalf of victims of cyberbullying everywhere.
Her lawyer chimed in about Rob breaking the law of California (and several other states) by posting her nude pics, and Chyna says she was totally flabbergasted (our word, not hers) by his actions.
As for Rob's claims that she simply used him and his Kardashian name for fame, Chyna said "I was Blac Chyna before I was with Rob."
Bloop!
Check out the clips below:
Damn. She played every one of her cards right. pic.twitter.com/aZQ3Q94Xf3

— Young Visionary (@DanPultzMGMT) July 10, 2017
More from the interview will air tonight on Nightline.
Not everybody is cheering for Chyna though.  "LAHH" star Rich Dollaz summed up what plenty of people are saying over on Twitter:
Motherfuckas losing healthcare people dying cops killing kids kids killing cops and this who u put on Good Morning America

— Rich Dollaz (@richdollaz) July 10, 2017
Oh.
Photo: ABC