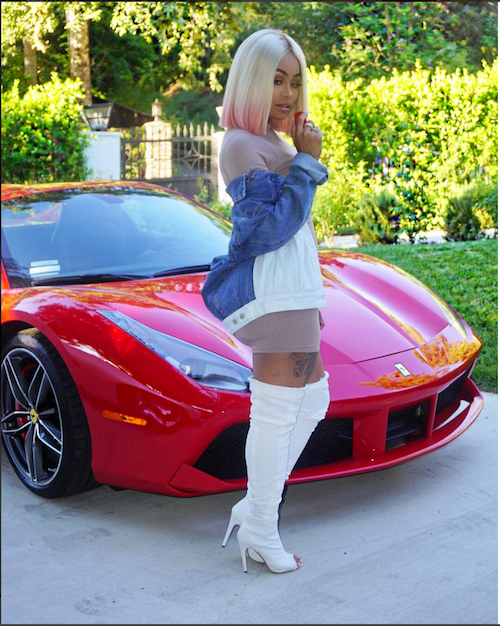 Chyna hasn't SAID an actual word, but she's been posting non-verbal videos with song lyrics and low key shade to get back at Rob for all that hot tea he's spilling. Deets inside plus which celebs are chiming in on the drama, and Rob snatching back the 'Rari and others whips....
One of the guys Rob outed for cheating with Chyna took full advantage of his moment in the sun. He posted this "dance" video to do a little self-promotion, we guess:
Oh.
Then, Chyna went Live on IG to simply video her Versace sheets with Cardi B's "Bodak Yellow" playing. Yep, the same Versace sheets the guy Rob blasted for cheating with Chy was wrapped in.
Chyna also flashed tons of iced out watches and jewelry, likely the $250K worth of jewelry Rob claims he bought her just days prior.
Rob still had time. So he popped back again. Remember those cars Rob told the world HE paid for and gave to Chy? Well, he snatched those mugs back real quick. And posted receipts on Snapchat:
Petty.
None of Rob's 5 sisters have chimed in on the matter, surprisingly, but celebs are all over this ish.
Tamar Braxton gave her 2 cents about the drama with this HILARIOUS repost:
Ha!
Charlamagne had a thought provoking question:
What if we find out Rob transferred his fat to shorty? And What if Rob post that he wants his fat back from Her??

— Charlamagne Tha God (@cthagod) July 6, 2017
IG comedians King Keraun and Simone Shepherd got to work EXTRA fast with a new vid:
what Is @BLACCHYNA ? I'll tell you pic.twitter.com/i9l3OIzXcF

— Mo City King (@Kingkeraun) July 6, 2017
Snoop basically said what we were all thinking:
Y'all know 50 Cent had to chime in with his take: