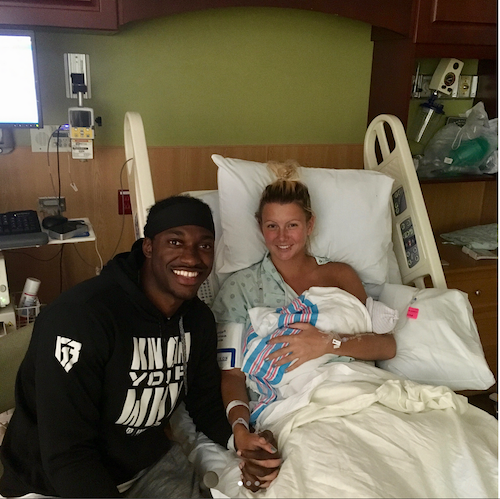 Robert Griffin III just welcomed his second baby girl with fiance Grete.  And he's singing her praises for pushing on through.  First pics of their new bundle of joy inside...
World, meet Gloria Griffin!
Robert Griffin III is a dad again.  The NFL baller and his fiance Grete Sadeiko welcomed their first child on Sunday, and baby Gloria weighed in at 6 pounds, 12 ounces.
RGIII posted pic from the hospital, including one showing him doing his daddy-duty of rubbing Grete's back while in labor.  How intimate...
He's never been shy about professing his love publicly for his fiance.
He gushed about much of a "certified baller" Grete was, saying,"The way she pushed through delivering you into the world was the stuff of legend."
Grete posted:
"Couldn't have done it without this man by my side, my backbone. Trying to make me laugh every way possible and keeping me entertained through all the pain and doing everything to make me smile and get through this. You deserve a medal baby!"
Check out the new parents with their baby girl:
He also sang her praises on Father's Day while posing it up with his daughter from his first marriage which was recently finalized:
Congrats!
Photos: Instagram