The late Notorious B.I.G. was honored at the 30th Annual ASCAP Awards and his kids, C.J. Wallace and T'yanna Wallace, accepted the honor on his behalf. Remy Ma and French Montana also went home with awards. More inside…
Sibling love!
Notorious B.I.G.'s son C.J. Wallace and daughter T'yanna Wallace were front and center at the 30th Annual ASCAP Rhythm & Soul Music Awards held at the Beverly Wilshire Hotel this week.
20 years after the untimely death of the NYC rapper, he was honored with the ASCAP Founders Award. And his son C.J. paid homage to his dad rocking his pops' signature Kangol hat and shades for the event.
"Tonight means a lot of things," C.J. said while accepting the award."But at the top of the list, it means inspiration and continuing to push the legacy forward in many different ways."
"My father's a huge inspiration for us," he told Rap-Up. "Tonight, we're looking back 20 years and seeing how many people he's impacted and how much he's impacted us."
C.J. is taking a page from his father's book as a member of Non-Fixtion, a trio which includes his brother Jahad Russaw(Faith Evans' son with her ex-husband Todd Russaw) and Lotus Ley.
Diddy's son Christian and Justin were tapped to present the award for Biggie.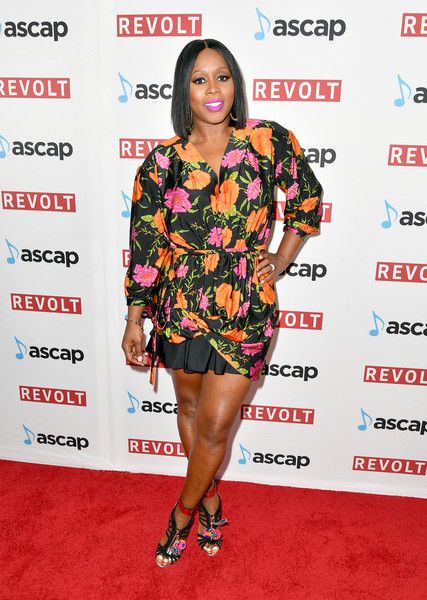 Floral frock fab!
French Montana and Remy Ma copped an award for their hit single "All The Way Up." Rem spoke about Biggie's influence saying:
"Some people come to the game and they're just in the game and they literally change the whole dynamic of what's going on. When B.I.G. came out, people started rapping different, dressing different, talking different. Those are the people that you tend to reflect on and call legends. What he did deserves this type of recognition."
Her post, though, had folks wondering if she's throwing more shade at Nicki:
She aint slick capitalizing that "writer in Songwriter....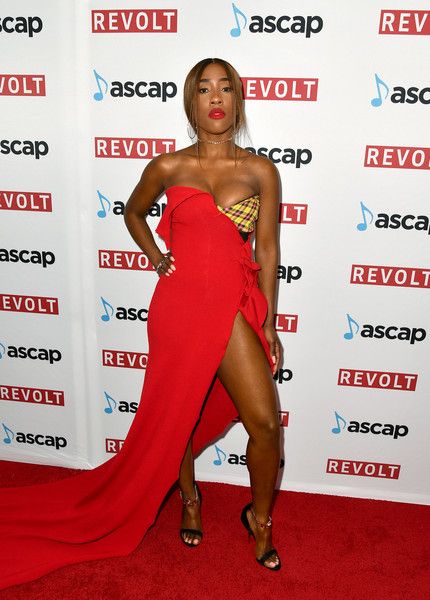 R&B singer/song-writer Sevyn Streeter posed it up on the carpet serving up some leg action. She's set to release a new album titled Girl Disrupted on July 7, 2017.
R&B singer Jeremih and producer Needlz copped awards for the smash hit single, "OUI." Jeremih also hit the stage to perform his hit.
Legendary raptress MC Lyte, who recently got engaged, and "Empire" star/rapper Bre-Z were in the mix.
Dynamic song writing and producing duo Jimmy Jam and Terry Lewis received the ASCAP Voice of Music Award, just one week after being inducted into the Songwriters Hall of Fame.
"Power" star Rotimi hit the stage to present. By the way, season 4 of "Power" premieres tonight at 9pm EST on STARZ.
Photos: Backgrid/Getty