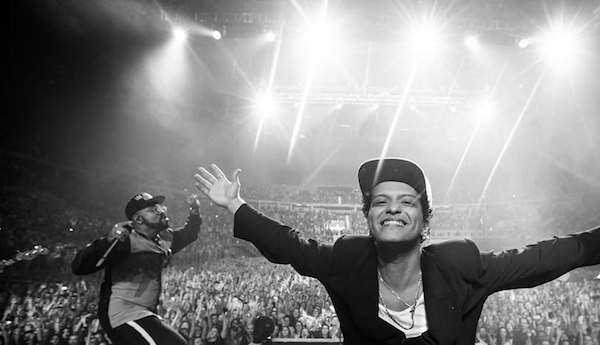 We never thought we'd see the day folks try to drag Bruno Mars, aka Peter Gene Hernandez. But, here we are. Deets inside on the latest battle over on Black Twitter about Bruno Mars & cultural appropriation vs. appreciation inside...
Twitter user Jenn Jackson is pissed. At Bruno Mars no less. How can ANYONE be pissed at the man who has us at all the functions like:
Well, the Doctoral student who also writes at The Root and Washington Post says the "24 Karat Magic" singer is a culture vulture and black folks need to stop letting him get away with it.
Oh?!
As the Hawaiian-born Bruno prepares to open tonight's BET Awards, Jenn set things off this morning with this Twitter thread: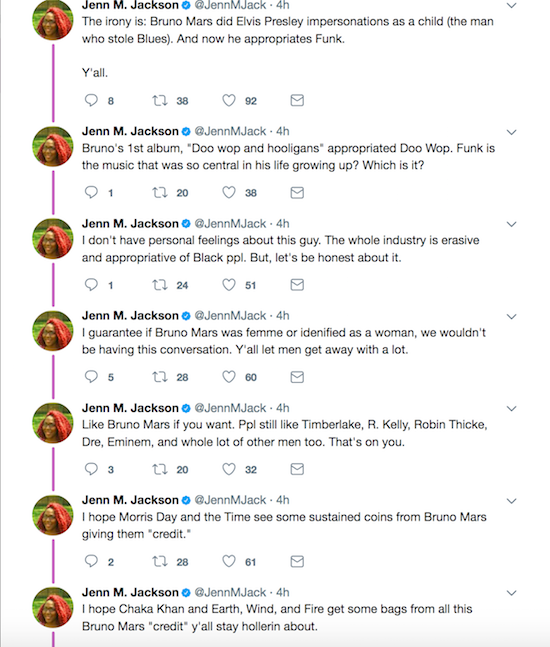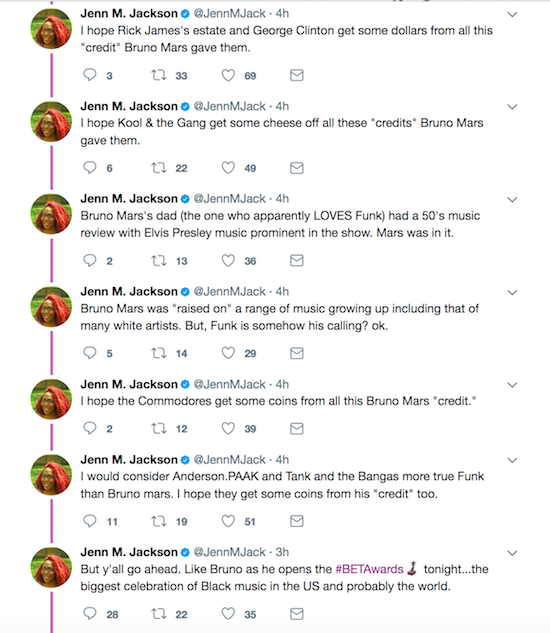 Gurl....
So what, exactly, does she want Bruno to do?
I don't really think it is about being better per se. But I do think he can speak more candidly abt how his role affects Black Funk artists.

— Jenn M. Jackson (@JennMJack) June 25, 2017
Yeah, Black Twitter still wasn't with it.
Yes and I will be sitting there bopping to Versace on the Floor! pic.twitter.com/3V0khRENdp

— €! (@uberheelx) June 25, 2017
Same! I didn't even know he was opening the BET awards. I'm excited nowpic.twitter.com/VjleBG5ND7

— Miesharoni (@mimireshee) June 25, 2017
Random chick: "black twitter, let's be mad at Bruno mars!"

Black twitter: pic.twitter.com/NXn1nxz2mK

— mark. (@Mark_Jayy) June 25, 2017
But Bruno Mars himself has been quite vocal about the role Black artists have played in his music and music and culture all around.

— Michael Arceneaux (@youngsinick) June 25, 2017
People learn a new word and then proceed to apply to every single matter even if it doesn't apply, re: Bruno Mars and "appropriation."

— Michael Arceneaux (@youngsinick) June 25, 2017
Jenn M. Jackson this whole thread is false. let me tell you why: https://t.co/gwW6ies6gS

— kaiden (@hypebruno) June 25, 2017
Y'all arguing about Bruno Mars' ethnicity when all he's done is JAM for the people?

24K PETTY IN THE AAAAAAAAAIR!!

— Rusty Redenbacher (@rustymk2) June 25, 2017
Bruno Mars gave respect to Black Culture for influencing his music, unlike some other non-black, mainstream artists. pic.twitter.com/fB2wjVnOtQ

— July 1st.
Welp...
Photos: Instagram