Steve Harvey feels like people are taking his joke about the Flint Water Crisis the wrong way. Oh? Find out his explanation and read the open letter Flint mayor Dr. Karen Weaver wrote to Steve requesting an apology inside…
Steve Harvey had the Internet buzzing once again when he hurled a joke about the Flint Water Crisis during his early morning radio show. A fan called in to mock Steve's favorite team, Cleveland Cavaliers, on their loss in the NBA Finals.
"You from Flint?" Steve asked the caller."That's why y'all ain't even got clean water. When was the last time you touched water and it didn't have lead in it?"
Then, he takes it even further.
"Enjoy your nice brown glass of water," Steve said to the caller. His co-host quickly offered up an apology on his behalf. 
Take a listen below:
As expected, a social media dragging commenced where users popped off on the comedian, letting him know the Flint Water Crisis is NOT a joke.
The "Family Feud" host addressed the controversy telling an AJC reporter he didn't see anything wrong with the joke because it was just basketball trash talk between himself and the caller. He didn't mean any disrespect to the city of Flint.
"The uproar came. This is sort of crazy. It was out of context. I was just talking to this one guy."
He feels like people being so overly sensitive prevents him from doing his job, telling jokes.
"I don't know if I'll be able to tell jokes. I can't say nothing about nobody!"
Steve also made note of how he dedicated an hour of his radio show to help raise funds for the city and pressed then presidential candidate Hillary Clinton.
The radio host also issued a statement to NBC-25/FOX-66 in mid-Michigan that reads:
"This morning callers and I were cracking jokes about the Cleveland Cavaliers loss to the Golden State Warriors. I'm a huge Cavs fan.

The caller and I were talking trash about our teams and cities. "SIMPLY TRASH TALKING ABOUT SPORTS".

I made a joke directed at him, as he is from Flint, a city for which I have great affection and respect.

So much so that I devoted a full hour on my daytime talk show to raising awareness for the Flint water crisis.

I also pressed then candidate, Hilary Clinton, to offer solutions to what I called one of the great catastrophes of modern times.

The and the caller laughed as my joke was taken in the context it was offered."
Amid all of the controversy, Flint Mayor Dr. Karen Weaver issued a statement to Steve, requesting a public apology and also a sitdown to chat.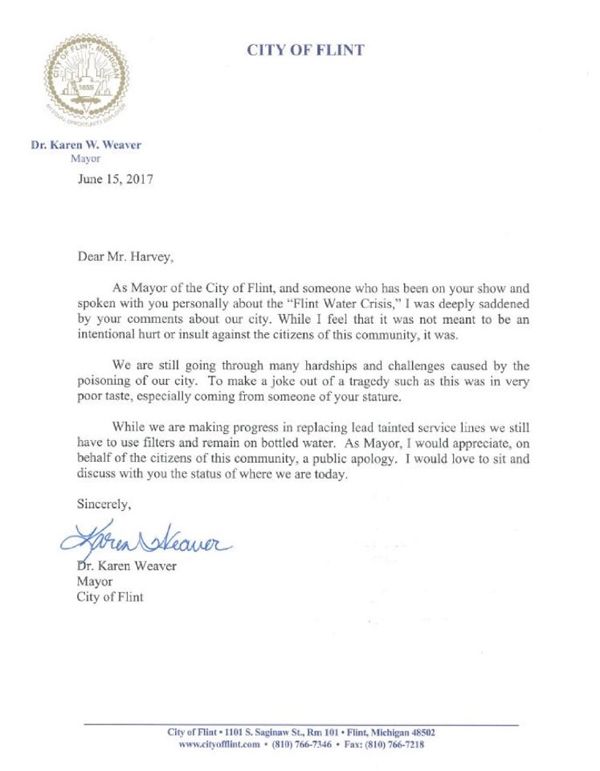 Come on Steve!
Photo: Getty