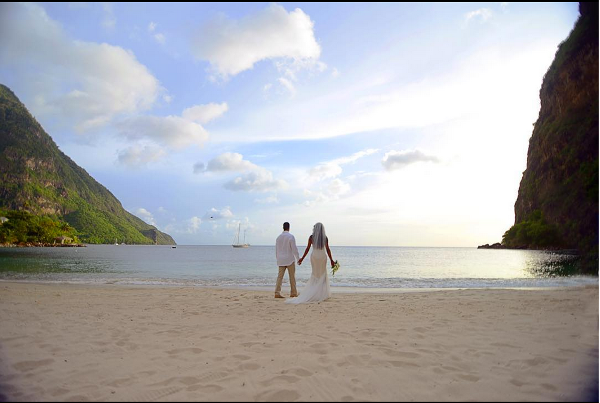 Looks like Kenya Moore found herself a husband, and she's got receipts for you doubters....
Kenya's married y'all! While everybody collectively squinted and said, "Y'all sure?" when reports first surfaced, now the "RHOA" star is confirming it herself. A couple days ago, a picture from an apparent St. Lucia wedding with Kenya and an unknown guy were posted byTamara Tattleswho said she heard her "friend" Kenya had indeed tied the knot.
Seeing that folks weren't even aware Kenya had a non-paid boyfriend, it took everyone by surprise. Has she ACTUALLY found love AND kept it a secret from the world? She says yes. Kenya herself confirmed in a statement to People saying:
"I'm just ecstatic," the star tells PEOPLE. "This man is the love of my life and I'm so happy to begin our lives together as husband and wife."
Apparently, she met the businessman (we've heard he's everything from a restaurant owner in Brooklyn to a quiet millionaire) a year ago and started dating a few months ago.
Supposedly, Kenya wanted to keep this new relationship off the "RHOA" producers' radars, as well as the public's.  Sources say she felt the relationship would be jeopardized if she included her reality life.
She has a point.  But it's still an eyebrow raising move.
We've also heard that Bravo execs are LIVID.  An emergency meeting was called via phone, as soon as the story broke, with Kenya and producers and execs hashing out why this all went down the way it did.
While Kanya is set to return to season 10 of RHOA and pre-filming has already begun, Bravo feels a life change this big should have been told to them in some way.
Oh well.  Guess they'll have to deal.  Because Kenya seems unbothered by keeping her man to herself.
While no marriage license has come up in anybody's system with Kenya's name on it (yet), she says we'll all see it soon.  Also, the resort where Kenya got married supposedly toldStraight From The Athat no wedding took place there, but Kenya was there vacationing.
That's a lot of info for a hotel to give to the public, if true.
Since Kenya has supposedly told Bravo execs that she didn't want to have her relationship associated with the show in any way, it'll be interesting to see if this husband shows up next season.  Especially after all the drama with her ex Matt Jordan.
Kenya posted a few pics from the wedding vacay, with comments now turned off:
She's set to appear at her own Pop Up Shop at Perimeter Mall to push her new Kenya Moore Hair Care products this Father's Day weekend. Convenient timing.
Congrats to Kenya on her new union!
Photos: Instagram