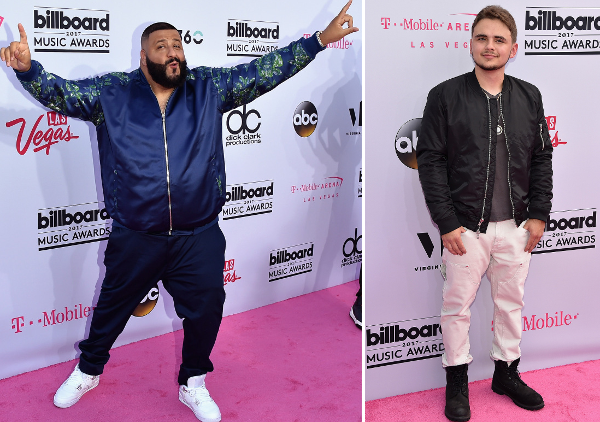 The BBMAs brought everybody to the pink carpet in Vegas tonight.  DJ Khaled unknowingly shaded a K-Pop band while 15-year-old Prince Michael Jackson is totally all grown up!  Get it all inside...
DJ Khaled hit up the T-Mobile Arena in Vegas tonight to rep as the brand's major spokesman, as usual.  But he also revealed how he gets top artists to hop on his albums. 
When E! asked Khaled how the "I'm the One" collabo with Justin Bieber went down, he said he simply called up the singer and asked him to come over to lay some tracks.  Justin drove himself over to Khaled's house, and the rest is history.  Yep, it's just that easy when you've got the keys.
There was no Baby Asahd for us to drool over, but there was tons of #fanluv for Khaled out on the carpet:
But Khaled's trending on Twitter because of his reaction to K-Pop band BTS winning the Top Social Artist Award:
MY FAVORITE VIDEO ON THE INTERNET FROM NOW ON #BBMAspic.twitter.com/1NN5TSLAS8

— (@btsinbloom) May 22, 2017
i hope dj khaled was sittin there like hm lemme make a move

— h (@DISSHATER) May 22, 2017
DJ Khaled is gonna snatch them up for a song in the future. I FEEL IT

— ⚡ (@princeiscoxxii) May 22, 2017
@safemyoongi lmao DJ Khaled watching them walk by like "Who the hell are these guys"

— ImChimChu (@RealJadeWills) May 22, 2017
DJ KHALED LOOKIFN CONFUSED https://t.co/A8RmIA4Ed3

— ㅤㅤㅤ (@Iuvkoo) May 22, 2017
i will never forgive dj khaled for this like if you don't get the whole fuck up?????? pic.twitter.com/xzYrcC3VDW

— lundyn (@dbwkw) May 22, 2017
Hilar.
Looks like Michael's kids are doing fabulously these days.  Prince Michael Jackson hit the pink carpet tonight to talk about how his family is doing and what he's up to.  The seemingly well-rounded teen just finished up his latest school year.  He spent this past semester in a student organization called Heal Los Angeles focusing on child abuse and child homelessness.  He's also working as a producer on an upcoming Swedish artist's album.
By the way, he's got a matching tatt with sister Paris. Check it above.
Photos: Getty