Looks like issa wrap for "Scandal."  The show is set to announce its end date, and it's coming sooner than you think.  Deets inside...
Kerry Washington broke barriers with her leading role in a top network tv show over 6 years ago.  Now, that show is coming to an end.
It was reported today that "Scandal" will end next season.
The Hollywood Reporterreveals:
The network is expected to announce at next week's upfront presentation that the Shonda Rhimes drama starring Kerry Washington will end with its previously announced seventh season. ABC, producers ABC Studios and Shondaland declined comment.
While "Scandal," which is currently in its 6th season, still rakes in almost 9 million viewers each week, and this is arguably one of the best seasons its had in a while, the show is no longer at the top of the TGIT food chain.  It now paces behind Grey's Anatomy and "How To Get Away With Murder."  Also, creator Shonda Rhimes stated a while back that she knew exactly when the show would end, and it looks like this end date is her decision.
According to THR, "Sources note that Rhimes always saw Scandal as a seven-season show."
Interstingly, Shonda and the writer's wroom had to scrap a whole storyline this season because it hit way too close to home:
This season, writers had to scrap a planned storyline that featured Russians hacking the presidential election when reality struck too close to home for ABC's political thriller. A new president to replace Tony Goldwyn's Fitzgerald Grant is expected to be revealed before the show wraps its season.
Life comes at you fast.
We'll find out the fate of "Scandal" for sure when ABC unveils its new fall schedule for the 2017-18 broadcast season early next week at its upfront presentation in NYC.  Whether it will have a mid-season return or if it will get held off until next year is yet to be determined.
In the meantime, let's re-live the Olivia-in-a-stunning-wedding-dress episode from a couple weeks ago while we all went down the "what if" lane: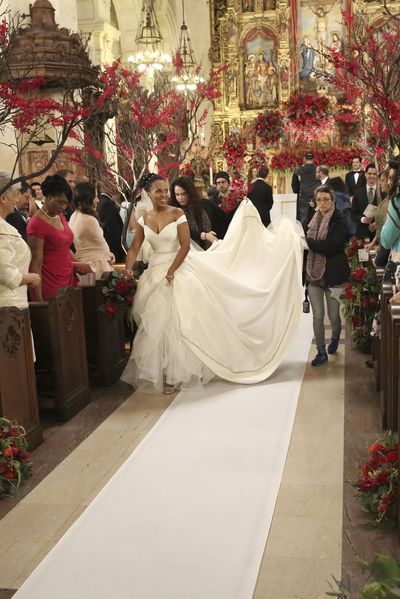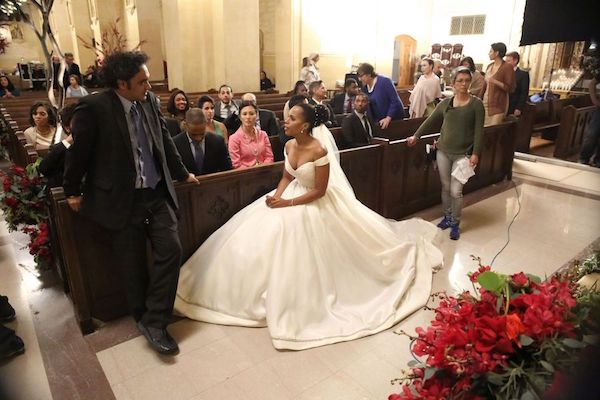 Gorge.
Photos: ABC Network