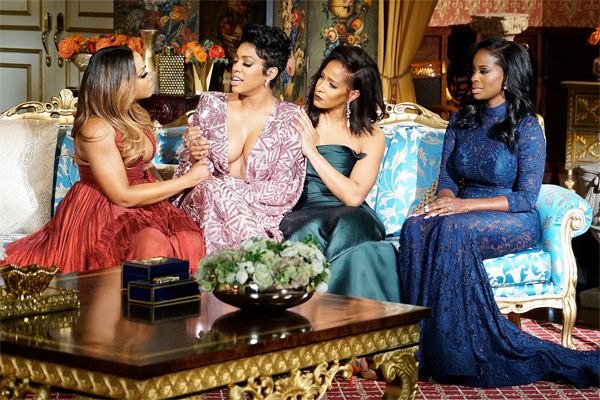 Porsha Williams opens up for the first time since her former bestie Phaedra Parks' lies were exposed on the "Real Housewives of Atlanta" reunion. Meanwhile, the Southern Belle is still trying to keep the heat off of her, blaming producers for the drug/rape rumor. Get it all inside…
Porsha Williams is publicly speaking out for the first time since the final "Real Housewives of Atlanta" reunion episode aired on Sunday. We all saw the explosive finale when her former bestie Phaedra Parks was exposed for making up that lie about Kandi & Todd Tucker allegedly wanting to drug and take advantage of Porsha.
The reality star told Dish Nation she doesn't know if she'll ever be able to forgive Phaedra for betraying her.
"It's difficult because I love Phaedra," Porsha shared. "She was like my best friend. Someone I talked to on the phone every single day. And for me to feel like she had betrayed me like that. And the fact that I was sitting there and watched her continue to lie on me about it. That's the part I can't get past and I don't know if I ever will. Right now, I just can't talk to her."
Porsha revealed Phaedra has been calling her trying to work things out, but she's not interested. Porsha said Phaedra texted her after her uncle passed to offer up her condolences, but other than that, she has not spoke to her.
Peep the clips below:
Can't say that we blame her.
In other "RHOA" news...
As you know by now, Phaedra Parks had her peach snatched due to a "morality clause" in her contract.  Apparently, she broke a rule when she started spreading the rumor that Kandi and Todd wanted to drug and rape Porsha.
What we didn't see on the reunion episode was Phaedra placing the blame on one of the producers for providing her with the false information.
A source told Page Six, "Phaedra tried to blame producers for manipulating the scenario and it was cut from the reunion show. They're not allowed to break the 'fourth wall' and talk about production. It may not have been entirely Phaedra's fault, but she has to take the fall."
We're not totally ruling this out because producers often times have A LOT to do with storylines, planting info and such. But, the Southern Belle should have known better or at least tried to get them to come up with something else because that "rumor" was a bit much.
Find out what Andy Cohen thinks about Phaedra's behavior at the reunion HERE. 
Photo: BRAVO