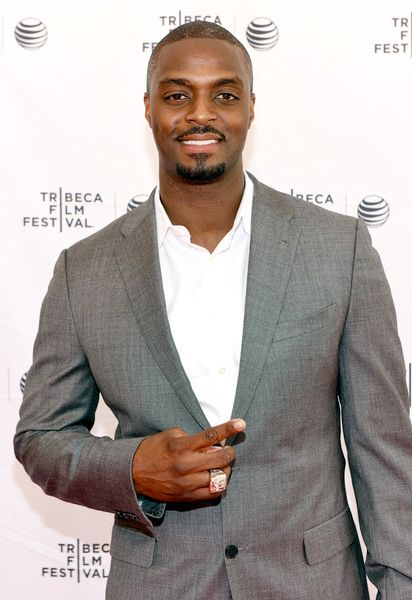 Former NFL superstar Plaxico Burress has some words of advice for the recently drafted NFL rookies. Straight talk, no chaser…
If anyone knows how you can be on top of the world one minute, and not the very next minute, it's Plaxico Burress. He ruined his NFL career after shooting himself in the leg inside a NYC nightclub. That one mistake cost him his career and he ended up spending two years in prison, away from his wife and children.
Now, the Super Bowl winning wide receiver is offering up some much-needed advice to the NFL rookies who were just drafted into the NFL.  And he didn't sugar coat ish either.
In an open letter he wrote for The Player's Tribune, Plaxico opened up about how naïve he was when he was drafted into the NFL and how he wanted to help everyone who he THOUGHT would always have his back.
"You could have it all — you could be living the dream — and then one stupid decision can change everything."

"I bet you got a lot of people making you feel really special right now. You made a lot of 'friends' your last year in college and during the draft process, didn't you? Cats from the old hood hit you up like you're still boys. Cousins you didn't even know you had came out of the woodwork talking about how they're so proud. And everybody's a financial advisor, an entrepreneur or whatever — or has a friend who is."

"I won't tell you who to trust. I can't. Because the only person who can make that decision is you. The only advice I can really give you is to trust your gut, not your heart."

"It won't be easy. When dudes from the old hood come calling, you won't want them to think you're too good for them all of a sudden, right? So maybe you'll be a little generous. And when your family reaches out, you won't want to seem like you're turning your back on them. So you'll throw them a bone, because they're family."
The former NY Jets baller encouraged the young guys to get educated on how to manage their new millions because no one else will.
"When the Steelers drafted me [in 2000], they basically handed $5.5 million to a kid who had never even had a bank account. I came from the hood. I didn't know anything about money or how it worked. I thought that when I got to the NFL, somebody would teach me about money and about business."

"But nobody did."

"I went to the rookie symposium with all the other rookies, and people came in and talked to us about finances and how to act like a pro and all that. But they also had us put condoms on bananas — no lie, they brought out baskets of bananas and baskets of condoms, like it was an eighth-grade health class. It felt like they spent more time teaching us about STDs and how to conduct ourselves in public than about how to protect ourselves from scams, risky investments and other financial dangers."

"After the symposium, I could put a condom on a banana, but I still didn't know how to write a check."
Really NFL? Sighs…
Once he was convicted with that gun charge and was sent to prison (in 2009), he talked about how those same family members he was helping to support didn't even bother to come see him while he was in prison. So much for family. He said he ended up cutting those toxic people out of his life.
However, the friends he grew up with (whom he was also helping) did come see and support him and they're all still close today.
"I can live with having lost some money because I trusted the wrong people, or because I wasn't educated enough on how money and business worked. I learned some lessons the hard way, and that's O.K. But at the end of the day, I lost two years of playing the game I love when I was in my prime. I lost millions of dollars. I lost valuable time with my wife and children. I even missed the birth of my daughter, who was born while I was in prison. I basically lost everything all because of one stupid decision.
"And a lot of what I lost, I'll never get back"
At the end, Plaxico offered up a listening ear if any of the rookies ever wanted to talk or ask questions.
You can read his full letter here.
Glad someone is giving it to these rookies straight, with no chaser.
Photo: Getty