This Spirit Airlines foolishness has everybody dragging the budget airline today.  Now, the three people arrested for last night's airport brawl are speaking up about after the airline's hack job of customer service and their many cancellations. Plus, Spirit is passing the blame to the pilots...
You've seen the Spirit fight club video by now (if not, watch below).  Now, the three people arrested are speaking out, and they happen to all be siblings.
Desmond Waul, 22, Janice Waul, 24, and Devante Garrett, 22, were arrested Monday night and are now facing charges of inciting or encouraging a riot, disorderly conduct, resisting an officer, and trespassing after a warning, according to a Broward Sheriff's Office police report.
"You guys had security handle us like we were animals, all on camera," Desmond Waul said. "That's my sister. She's a girl. That's my brother. You can't be touching us like that."
Jannice spoke out today saying she's a college graduate and has never been arrested before in her life, until now.  And it's completely unfortunate that Spirit called the cops on them, instead of their managers to get help with their customer service, says Janice.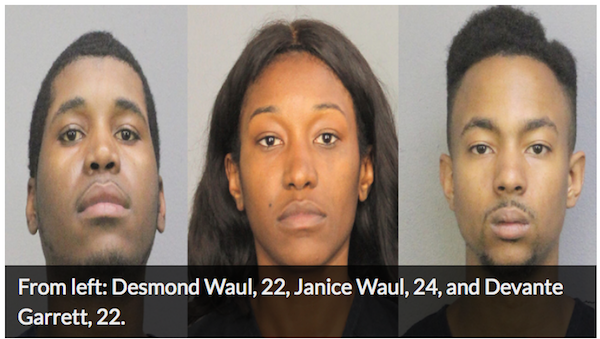 The siblings, who are from Long Island, were in the area celebrating Janice's birthday and needed to return home for her graduation.  When Spirit canceled their flight and then re-booked them on another flight that they ended up canceling as well, they went off.
They said they were arrested after getting into it with a Spirit Airlines employee who cussed them out after they requested to speak with a manager.
Spirit issued a statement, blaming the pilots who they feel are purposely jeopardizing the company by backing out of their scheudled flights: 
"We are shocked and saddened to see the videos of what took place at Fort Lauderdale-Hollywood Airport this evening," the Miramar-based airline said in a statement. "This is a result of unlawful activity by some Spirit pilots designed to disrupt Spirit operations for our customers, by canceling multiple flights across our network. These pilots have put their quest for a new contract ahead of getting customers to their destinations and the safety of their fellow Spirit team members. It is for this reason, Spirit has filed suit in federal court to protect our customers' future travel."
The piilots and the airline have been at odds for two years over labor issues, and the Airline Pilots Association has been involved.
A lot of Spirit Airlines' passengers don't like the airline. The same may be true of its pilots. https://t.co/aBX6aDVMhPpic.twitter.com/eMmVLTCWVQ

— CNN (@CNN) May 9, 2017
ABC news reports:
The discount airline goes on to say pilots are refusing to pick up open flying assignments, which Spirit claims is an illegal and concerted plot by the Air Line Pilots Association to apply pressure during contract negotiations. It has filed a lawsuit, saying it has had to cancel about 300 flights nationally and internationally over the past week because of the union's actions. Another 36 were canceled Tuesday.
The federal governemt has now gotten involved. 
Federal District Judge William P. Dimitrouleas issued a temporary restraining order against the union today, ordering its member pilots to not engage in any boycotts or slowdown or else they would be in violation of federal law.
Just a damn mess.