Seems like Common and Serena Williams were getting flirty with each other on Twitter recently. Perhaps they'll rekindle their romance in the spring!  Read the tweets inside and find out about Trey Songz upcoming tour with Big Sean.
So one night/day Serena Williams was listening to "Lovin I Lost" off Common's The Dreamer/The Believer album and she tweeted a response to him that it was her fav on the album.  Funny thing is, the song sounds like it could have been about her!
He responded by asking her to star in the video?  Hmmm.....I'm thinking working together could spark a fire.  Because if you listen to the song, he's still clearly smitten!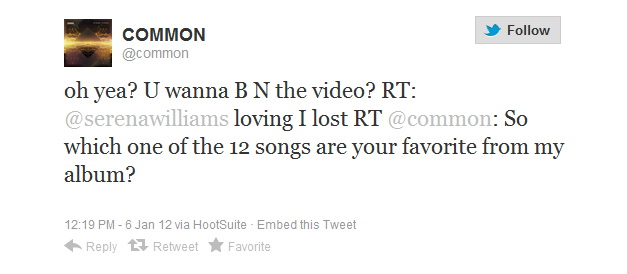 Listen to the track here:
And on tour..................
Trey Songz is kicking off 2012 with his Anticipation tour along with Big Sean on February 9th in Cleveland.  The tour will support his latest mixtape entitled 'Anticipation 2.′ 
In addition to the tour, Trey will drop his new album entitled 'Chapter V,' this spring and appear in the upcoming remake of 'The Texas Chainsaw Massacre 3D.'
The 2012 Anticipation 2our dates are as follows:
Feb.9                    Cleveland, Ohio                               State Theatre
Feb.10                  Louisville, KY                                   Palace Theatre
Feb.11                  Chicago, Illinois                               Auditorium Theatre
Feb.12                  St. Louis, MO                                    Fox Theatre
Feb. 14                 Dallas/GP                                         Verizon Theatre
Feb.17                  Los Angeles, CA                               Nokia Theatre
Feb.18                  Las Vegas                                         

The Pearl at Palms Concert Theater


Feb.19                  Oakland, CA                                      Paramount Theatre
Feb. 23                 Cincinnati, OH                                  Aronoff P&G
Feb.24                  Detroit, MI                                        Fox Theatre
Feb.25                  Milwaukee, WI                                 Milwaukee Theatre
Feb. 28                 Toronto, ON                                     Sony Theatre
March 1               New York, NY                                   Theatre at MSG
March 2               Atlantic City, NJ                                 Mark G. Etess Arena
March 3               Washington, D.C.                              Constitution Hall
March 8               Atlanta, GA                                         Fox Theatre
March 10            Southaven, MS                                   De Soto Civic Center
March 11            Nashville, TN                                      Municipal Auditorium