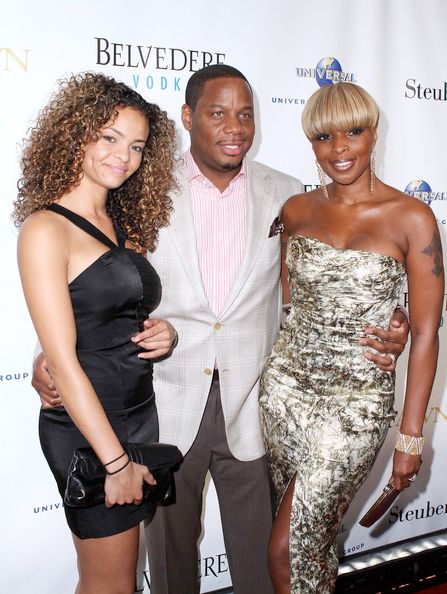 Mary J. Blige's "The Making Of: Strength of a Woman" documentary aired on VH1 last night. And she confirmed the rumors of her estranged husband Kendu Isaacs cheating. Get the tea inside…
Last night, Mary J. Blige's "The Making Of: Strength of a Woman" documentary aired on VH1, which documents Mary's journey creating her latest LP and her divorce from her estranged husband Kendu Isaacs. In one scene, she confirmed what the rumor mill has been saying about her estranged husband cheating on her.
Word on the curb was that Kendu was cheating on the Grammy Award winner with a 28-year-old up-and-coming artist named Starshell (pictured above), who was signed to Mary's Matriarch Entertainment Record label. She also lived in Mary & Kendu's guest house to be close to their in-home studio.
Based on what Mary said in the documentary, the cheating rumors are true.
The Queen Of Hip Hop Soul was sitting in a studio session with singer-songwriter Ne-Yo while working on her new LP, Strength of a Woman. In the documentary (narrated by her "big brother" Diddy), Ne-Yo said he reached out to Mary to work with her because he had some material he wanted to share with her. While they were in the studio, Mary made it VERY clear she did not want a particular person anywhere near the new material she was working on. The name of the person was bleeped out, but we all can read between the lines to figure out who she was talking about.
She referenced Beyonce's most famous line from her LEMONADE album, dubbing Kendu's side chick as "Becky With The Good Hair."
"Do not let…do you know [bleep]?," Mary asked Ne-Yo. "Do not let her nowhere near what you're doing for me because she's the reason for all of this sh*t. That's my Becky With The Good Hair."
Bloop! There you have it.
Peep the clip below:
Mary told Ne-Yo creating the album was therapeutic for her and that she did it to heal herself and to help someone else. She thought her marriage was going to last forever, but realized she had to make a move when Kendu chose  someone else (allegedly Starshell) over her. She said after all these years, she's humiliated he chose his side chick over her.
Damn you, Kendu!
The documentary features cameos from DJ Khaled, Missy Elliott, Hit-Boy, Jazmine Sullivan, Teddy Riley and other collaborators who contributed to the project. She revealed she started working on the album in Tyrese's house and he was the one who inspired her to name the album Strength of a Woman.
Go figure.
Photo: Getty