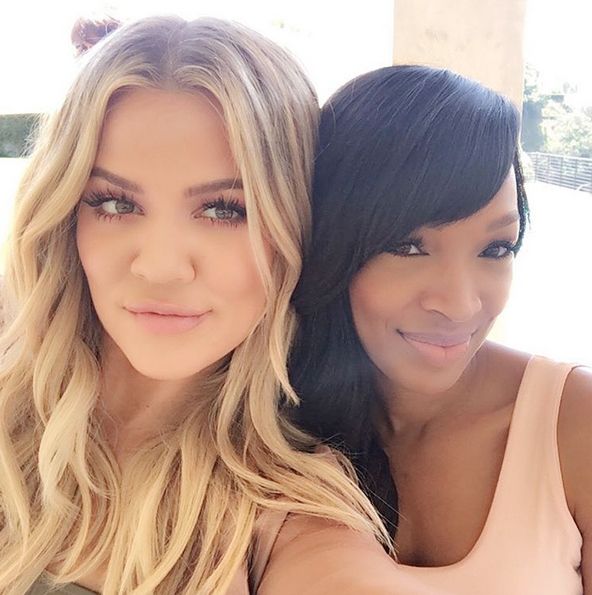 Malika Haqq and her bestie Khloe Kardashian got into a little argument over Malika's new relationship with Ronnie Margo-Ortiz. Khloe is mad Malika isn't spending as much time with her. But Khloe does the same ish.  Peep their heated exchange inside…
So y'all know how it is. Your bestie gets a new boo and suddenly she's spending less time with you and more time with her new man.
While you may miss your bestie, you know what the deal is. You give them their space so they can get to know their new boyfriend.
Well, Khloe Kardashian took issue with her best friend Malika Haqq spending less time with her and more time with her new boyfriend/ her "Famously Single" co-star Ronnie Magro-Ortiz.  Not sure why when Khloe basically does the same thing to Malika with the plethora of men she "gets to know."
On this Sunday's episode of "Keeping Up With the Kardashians," Khloe confronted Malika about ignoring her phone calls and never spending time with her anymore since she started hooking up with her new BAE.
When Malika popped up at Khloe's photoshoot, Khloe asked, "I thought you couldn't come here today because you were with your boyfriend?"
"I told you I would if I could and I'm here," Malika responded.
Malika then had to set her straight about her new relationship. Well, kinda. "Look, you know, sometimes priorities...some things have to change, I'm sorry."
She continued, "Khloe understands, she got a man [Tristan Thompson] and her priorities changed too. I took a back seat, the same way she's taking a back seat now."
Then Khloe responded, "I don't like the fabrications of it all. You're trying to say how I've changed when I do try to make an effort, so let's not play that game."
Chile...
Peep the clip below:
Girl, stop. Let Malika live!
Photo: Malika's IG