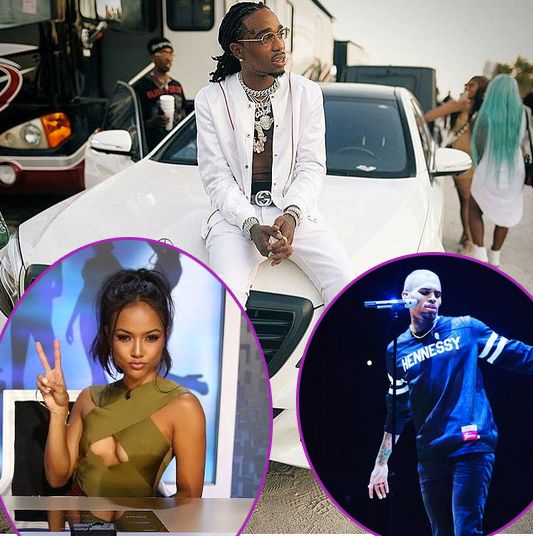 Word on the curb is that Chris Brown is LIVID that his homie Quavo is hooking up with his ex-girlfriend Karrueche. Details inside…
Who didn't see this coming?
Just a few days ago, it came it out that Chris Brown's ex-girlfriend Karrueche and Migos rapper Quavo are on new couple alert. And as expected, Breezy is NOT happy about it.
He really should get over it.  But since he won't....
We all know Chris is obsessed with Kae (at least, that's what folks in his camp say), so any guy she decided to get with he would likely have an issue. Remember what happened when Breezy thought Kae was seeing Tyson Beckford?
The thing about Kae's new coupledom with Quavo is that the "Loyal" singer considered Quavo to be a little brother to him, so he reportedly feels betrayed by the new relationship. According to TMZ, Breezy and Quavo had both a business and personal relationship. And Chris is BIG mad that he helped Migos promote their new album Culture while Quavo was supposedly seeing Kae behind his back.
Oh, and the report also said Chris feels like Quavo was in cahoots with Kae to get the restraining order against him so they could date freely without having to worry about him ducked off in the bushes or something.
We know how much Chris hates TMZ, so we're not sure how much of this is true, BUT we wouldn't be surprised if it is.
By the way, Ka and Quavo are "just dating" apparently and not necessarily exclusive.
Photo: Chris' IG/Kae's IG/Quavo's IG