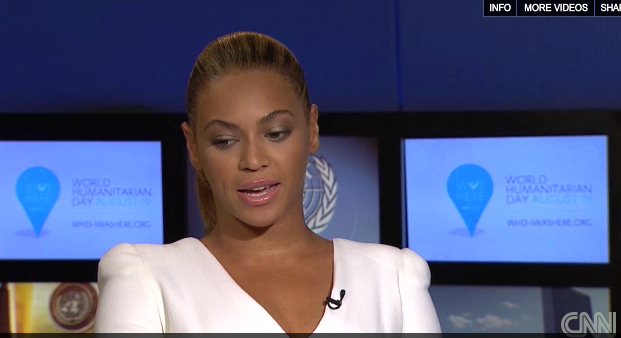 Last Friday, before she took the stage to record her World Humanitarian Day version of her "I Am Here," Beyonce Knowles did an interview with Anderson Cooper about her plans.  Check out their talk, which just aired in full tonight, inside...
On CNN's "Anderson 360" tonight, Beyonce and Anderson's interview was all about Bey promoting positivity in honor of World Humanitarian Day.  About how her Diane Warren-penned song "I Am Here" fits with the theme, she said:
"It says, 'I want to leave my footprints in the sands of time' and it basically is all of our dreams, I think. And that's leaving our mark on the world. I feel like we all want to know that our life meant something."
And about why she's working with the United Nations:
"We all have our purpose, and we all have our strengths...it feels so wonderful to do something for someone else. And I think for the U.N. to want to include the whole world was something important, and I feel like that's what I represent."
Check out a clip of their chit chat above.  We'll update with the full interview as soon as it's released.
Now updated with full video. Beyonce's "I Am Here" video will be released August 19th, World Humanitarian Day.