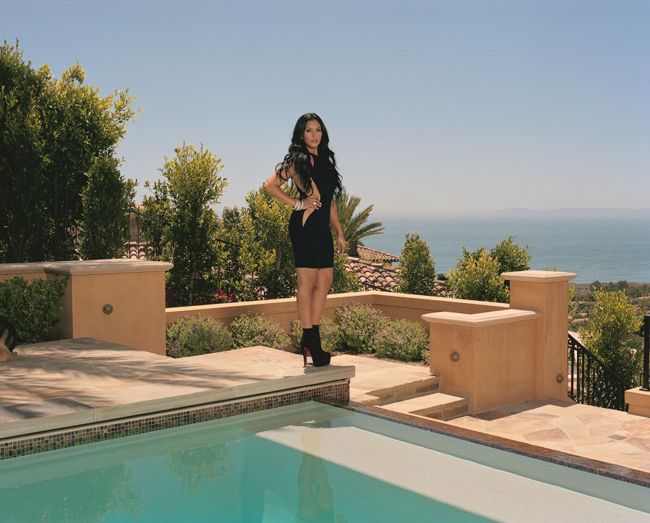 We rarely, if ever, get to hear from actual NBA wives who are married to some of the richest and most well known ballers in the league.  Now we have a peek into how catty the wives are...or aren't...with each other, plus why the fashion game is so much competition amongst them, it's a pretty interesting thing to hear.
Vanessa Bryant, Kimberly Chandler & Alexis Welch dish on the ish we've been wondering about inside...
 
The ladies snapped some fab pics for New York Magazine for a piece posted today on the publication's website.  And for some reason, Vanessa opened up more than ever.  Many think she's just an ice princess--since she seems to never engage with folks--who keeps a stone face while her husband is lacing her finger with yet another umpteen carat diamond ring to apologize for his infidelities, but she says that's not the case.
Vanessa on why she stays out of the limelight
"I thought things would go away, if you don't feed into the b.s., and no one would think about you.  Now I realize I do have to talk about certain things. Still, I don't like the limelight. There's a lot of good you can do with fame, like creating awareness for a foundation, but a lot of negativity comes along with it."
On if her and Kobe's marriage is on the mend
"Um, yes. We're working on things."
On her luxe 25 carat diamond ring
"Everyone my jeweler talked to was afraid of tension-setting it for me, but he finally found someone who wasn't worried about cracking the stone."
On no longer needing to collect Birkins and Chanel bags
"I'm not really a handbag person anymore.  I've collected Birkin bags, Chanel 2.55 jumbo flap bags, and the Marc Jacobs Stephen Sprouse collection for Louis Vuitton since I was a teenager. But now, as they say, everyone and their mom is buying a Birkin or a regular size 2.55 bag in black, taupe, or beige. I've been sticking to a magenta suede Proenza Schouler bag."
On her fashion style (while packing for the Olympics with her Chanel, Alexander McQueen, Louis Vuitton, Rick Owens & J Brand clothes spilling over)
"I'm inspired by Ann Miller and Monica Bellucci.  My mom dressed so ladylike, with high-waisted knee-length skirts, nylons, and long tailored coats, always on her way to work." (As far as Kobe's style goes)  For the longest time I tried convincing Kobe that he should wear things a little more fitted. And for years and years he was like, 'I don't feel comfortable, I feel like they rise.' And now all of a sudden the stylist says it, and it makes sense."
On her typical day and having NO nannies

"I think people imagine that I sit at home with all the time in the world to do my hair and makeup, but that's certainly not the case.  I'm up at 6:30 in the morning with my kids. I'm taking them wherever they need to go.  [I don't use a nanny.]  That's the way I was raised.  [I've never missed a sports game or practice of my daughters.]
On dealing with portable nebulizers for her daughter's asthma and feeling uncomfortable about the meds doctors push on her
"I'm not sure where she got asthma from, but I'm really careful.  When their dad's over and he sprays deodorant, I ask him to go into another room. My youngest daughter has allergies to olive trees. We had twelve olive trees on this property, and after we took her to an allergist, I had them excavated."
On the rumored fight with Khloe Kardashian Odom and getting special privileges from the Lakers organization
"Everything is false.  Khloé was at my 29th birthday. I don't get involved in the drama. I've been with Kobe since I was 17, so I've seen plenty of players, and plenty of wives, come and go. It wouldn't benefit me whatsoever to have an issue with any of them, whether they were a girlfriend, or a wife, a person-of-a-month, or … you know. And I think that's why the Lakers as an organization give me the access that I have, that other wives don't have.
If you notice, I am the only one allowed in that tunnel.  I don't like standing outside and giving him a kiss in front of all the cameras. So I stand in there to get away from them. But then the cameras end up following. And if the girls are there, sometimes, that's their kiss good night for Daddy, and when he comes home, they're asleep."
On pushing Kobe to win

"I love basketball. And I know what goes on behind the scenes, so I have a different perspective on things, but still, I do. I certainly would not want to be married to somebody that can't win championships. If you're sacrificing time away from my family and myself for the benefit of winning championships, then winning a championship should happen every single year."

More pics of Vanessa at her Newport Coast mansion and with her Pomeranian named Gucci:
Next up in the NY Mag piece was Amar'e Stoudemire's fiancee Alexis Welch: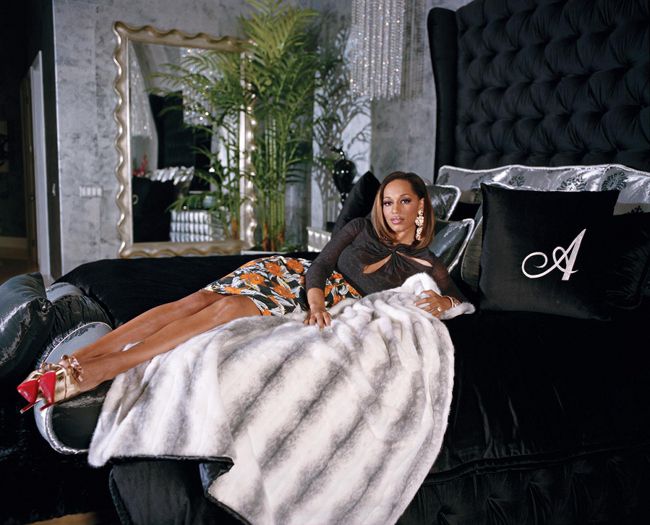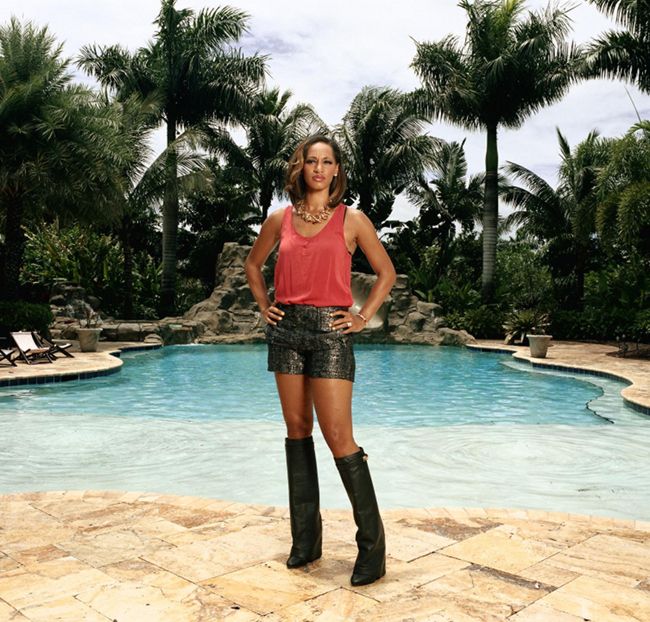 Highlights from her interview from their Miami home:
On helping Amar'e win in New York
"We all want to encourage our men and support them.  This is a partnership. We're going to get everything balanced, and that will be reflected on the court. I'm taking care of the household, making sure the kids are straight, the dog has his food, making sure Amar'e can be a dad at the end of the day, do something that has nothing to do with basketball.  Amar'e's going to get on the grind, everything's going to fall into place.  This year, we're bringing a championship to New York."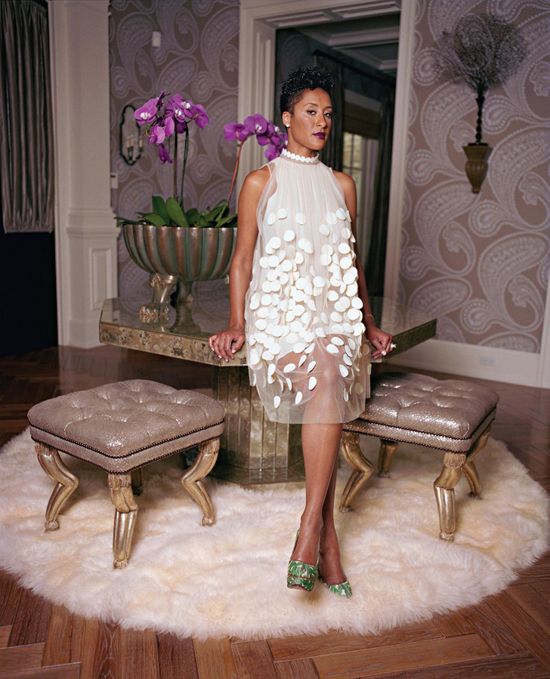 And also, NY Knick Tyson Chandler's fashionable wife Kimberly, posing in their NYC home.
On how Tyson woos her like Julia Roberts got pampered in Pretty Woman (the movie she was watching when Tyson surprised her with a shopping spree):
"I'm on my way home," he said. "I want you to pack a bag and be ready when I get there." Suddenly, she was off to the Beverly Wilshire Hotel, where Roberts's character fell in love with Gere's businessman, and the next ­morning, a stretch limo waited outside to take both of them to Barneys. "I was like, 'Hello, what are we doing?' " says Kimberly. "And Tyson said, 'Just come inside.' "

.........................

 

It's a family thing, the Chandlers' interest in fashion, and Tyson probably had as much fun on the day he arranged at Barneys as his wife. When they arrived, they were whisked into a dressing room the size of a hotel suite, with racks of clothes throughout and shoes lined up along the perimeter, Stella ­McCartney frocks and Chloé pants and everything in her size. Tyson gestured around the room, saying, "Everything you want, you can have."  Chandler said, "Okay, good! I'll take it all!" Slow down, slow down, he said, try some of it on. She walked out with a bounty, like a Rick ­Owens jacket with a high collar and low sleeves—it's probably her favorite Owens jacket. And the rest? "I don't really remember," she says. "I know I have some pieces still."
 
On caring for their plush home and kids
"I wanted it to feel like a Southampton estate," says Chandler as her polite kids ("I always say, 'You must say, "I apologize," not "Sorry," ' because the word sorry doesn't mean anything anymore," she explains) cartwheel down hallways. "My 6-year-old is like a 30-year-old. She's always saying, 'Mommy, your makeup is a-mazing!' "
And "Basketball Wife" Jennifer Williams, who was once married to ex-baller Eric Williams, dropped the tea about how the other wives size you up during the season:
"Everyone at games is looking at you to see what you're wearing.  Makeup's not that important, but hair and the clothes, oh, gosh! There's 82 games a year, and even if 41 are on the road, there can be three home games a week, and that's a lot of outfits to put together. There's pressure. You walk into the arena, and people know who you are and who you're with. The wives are looking."
Check out the full story over at NY Mag.