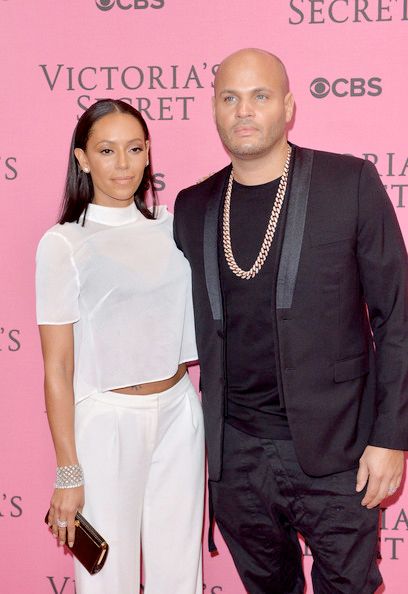 Mel B's divorce from Stephen Belafonte just got extremely messy! The former Spice Girl is spilling details on the hell she went through while married to her estranged husband. Find out what she's saying inside…
So those rumors about Stephen Belafonte abusing Mel B may have some truth to them. At least, that's what the former Spice Girl is claiming now.
Details from the divorce have come to the light and it's NOT pretty. The "America's Got Talent" judge claims Stephen use to beat her down, extorted her into having sex with other women, threatened to release sex tapes to ruin her career and he supposedly got one of their nannies PREGNANT. Remember when Mel's mother AND sister blasted Stephen online for allegedly being abusive?!
Since filing for divorce, Mel B, Stephen and their children decided to try family therapy in hopes of having a smooth transition into divorce. But, it apparently didn't work. On Monday, Mel B filed a restraining order against Stephen with claims that she's and her children are in fear of their lives. A judge has ordered Stephen to leave their family home in Hollywood Hills and stay far away from his family. He reportedly went by the house on Monday afternoon to pick up some of his belongings and told TMZ photogs that all of the allegations were NOT true.
In her declaration (via TMZ), she serves up a timeline of events where Stephen allegedly physically assaulted her on multiple occasions, threatened to ruin her career with the release of sex tapes, forced her into having THREESOMES and how he ended up impregnating their nanny!
Check it:
November 2007, the night of her "Dancing with the Stars" finale, as she was getting ready at home, she says Stephen placed both of his hands around her neck, began choking her and slammed her down onto the hardwood floors. She says this was the pattern ... when she achieved any measure of success, he would "beat me down to let me know he was in charge."

July 2012, while she was taping 'X Factor,' she was going to tape a segment with Usher, and Belafonte flew into a jealous rage, punched her with a closed fist in the face, splitting her lip. When she asked how she was supposed to work with the injury, he said she should have thought of that before deciding to "flirt with and f*** Usher."

August 2012, the day after performing at the closing ceremonies for the London Olympics, he punched her with a closed fist and pushed her down on the carpet. Her skin was burned from being pushed against the carpet and her face "actually scabbed over the rug burns." He then forced her to tweet out she injured herself by running on 7" Christian Louboutin heels.

Mel B claims Stephen got their nanny pregnant. She says he told her he wanted to have the baby and "all three of us live together." She says Stephen ultimately demanded the nanny get an abortion. She also says Stephen paid the nanny in excess of $300,000 of Mel B's money "for alleged nanny services."

She also says in 2014, she was overcome with "emotional and physical exhaustion" and took an entire bottle of Aspirin. She tried calling 999 and he blocked her, throwing her in the bedroom, locking the door and "telling me to 'die, bitch!'"

She says Stephen has sex tapes of her and repeatedly threatened to release them to ruin her career.

And, she says, he forced her to "participate in sexual intercourse with him and random women" and he would often secretly record the encounters. She says when she tried to resist the 3-ways, he'd threaten to release the sex tapes.

Mel B says she tried to leave him many times, but he "threatened me with violence and threatened to destroy my life in every possible way ... destroy my career and take my kids from me."

Mel B says Stephen has a gun at home ... a violation of law since he's prohibited from carrying firearms as part of a domestic violence conviction involving another woman. She says the gun is either a .38 or .357 magnum.
Peep pictures after the alleged altercations here.
And here's a clip of Stephen denying Mel B's allegations below: 
Speaking of Stephen's alleged firearm, the ATF served a search warrant on Stephen after his brother publicly made claims that he had a gun in his possession. ATF agents didn't find a gun during the search.
Sheesh!
Photo: Getty