Tamar Braxton just revealed to her sister Toni Braxton she suffered a miscarriage after initially keeping it secret.  Deets inside...
Tonight's episode of "Braxton Family Values" will be an emotional one. Tamar Braxton will reveal to her big sister Toni Braxton she and her husband Vince Herbert suffered a miscarriage after initially keeping it a secret.
No one knew Tamar, 40, was pregnant and before she could share the news, she unfortunately lost the baby.
"I didn't tell nobody because it was very, very new," Tamar tells Toni while chatting on the couch in Toni's L.A. home. "Well, maybe like a week before I went to Atlanta I found out that I was pregnant."
"Congratulations!," Toni squeals.
"Nah, uh-uh," Tamar responds. "
You're pregnant?," Toni asks.
"No, I was," Tamar says.
So sad. Tamar has been vocal about wanting another baby, so we know it was hard for her and Vince to go through such a tragic event.
During a confessional, Toni expresses that she was disappointed that her sister didn't share the news with her, but then says she understands some news is between a husband and wife.
"I was really disappointed that she didn't tell me, but I understood," Toni says. "Sometimes, it's between a husband and a wife. But I was glad that she finally told me, and I could be there and hold her hand because I'm sure that was a disappointing situation that happened for her."
Tamar and Toni also talk about Trina's suggesting that Tamar puts her three-year-old son Logan off on their mother Evelyn too much and feels Mama Evelyn is too old to look after him.
Peep the clip below: 
By the way, Tamar and Trina get into a HEATED argument where they almost come to blows…again. Peep our exclusive sneak peek HERE.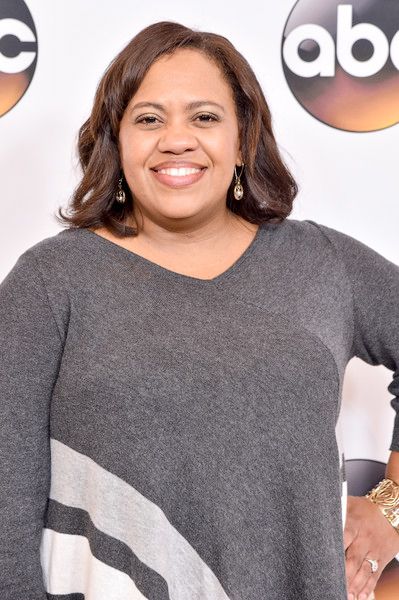 Chandra Wilson plays a doctor in ABC's veteran series "Grey's Anatomy." And now, she's opening up about her daughter's real-life medical stuggle to help raise awareness to the disorder. 
The five-time EMMY nominated actress, who plays Dr. Miranda Bailey, worked behind the cameras to direct the episode about cyclic vomiting syndrome, the disorder her 23-year-old daughter, Sarina McFarlane, battles with.
Sitting down with "Good Morning America" this morning, she revealed how the disorder presented itself as a really bad case of food poisoning six years ago. After being sick for about 5 days, they went to the emergency room to have her checked out. Doctors really didn't have any answers, and then it came back again.
"A month later, the exact same presentation happened and this was month after month after month for 10 months," she said. "I started looking for patterns. When you are the parent of someone who is a chronic pain sufferer, you end up creating these binders for all of the hospital stays so you can keep track of every visit and any new thing that comes out."
Ten months later, Chandra's daughter was diagnosed with cyclic vomiting syndrome (also called CVS). The disorder causes episodes of severe vomiting and exhaustion and it's really hard for doctors to diagnose.
"The name gave a direction to go in," Chandra shared. "And it put us in a community of people that seriously were going through the exact same thing stage by stage. "Being able to be on Grey's Anatomy with all of those people able to watch it and hear it and say, 'Oh my God. That's what that is. I've heard of that. That's my kid. That's my husband. That's my aunt,'" she explained. "That's something that I can do sitting in this chair on the set, then my daughter has said, 'Go ahead. Go and do that.'"
Peep the clip below:
Photos: Getty