T.I. and his "estranged" wife Tiny Harris came together to celebrate their daughter Heiress' first birthday yesterday. See the sweet family photos and videos inside.
Plus, Tip's alleged side chick Bernice Burgos finally speaks after Tiny went off about her being a homewrecker. Deets inside…
T.I. and Tiny Harris set their issues aside to celebrate a special birthday for one of their children. Their youngest daughter Heiress Diana turned one over the weekend and the entire Harris clan came together to celebrate.
Of course the Harris Family did it big. They brought Disneyland to them, surprising little Heiress life sized Disney characters.
Both Tip and Tiny posted up sweet Instagram messages, wishing their baby girl a Happy 1st Birthday:
Happy Birthday Heiress!
Nice to see they can come together (like they did on Christmas) to celebrate what matters most: family. With a divorce pending, some couples can't even stay in the same room together, but they appear to be working it out. And since they don't seem in a rush to finalize their divorce, maybe there's a chance for reconciliation.
But, that's a big maybe….
We say that because there are rumors going around about the Grand Hustle honcho supposedly smashing an Instagram vixen named Bernice Burgos. Tiny dubbed her as a "pass around b*tch" in an Instagram response to a fan last week. And now, Bernice is clapping back at her and those who are calling her a homewrecker: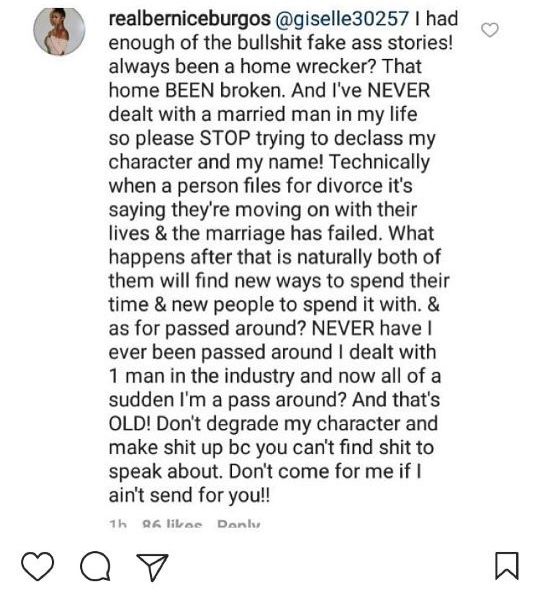 She claims she has never messed with a married man and that she's no homewrecker.  Well, if the home was "already broken."
Thoughts?
Photos: T.I.'s IG/Tiny's IG