Fetty Wap was back home in Paterson, NJ this weekend and got robbed.  Find out about the foolywang behavior of the person posing on IG with his chain and three people getting shot inside...
Reason #3247 why you can't always go back to the hood once you make it out.  Especially not when you've got a long standing beef back home.
Rapper Fetty Wap learned that lesson when he was riding around his hometown early Sunday morning.  Fetty was involved in a fight, and he was robbed of his signature '1738' chain.  During the fight, shots were fired and three people ended up wounded, not including Fetty.  TMZ reports:
Sources close to the situation tell us Fetty had a chain and cash snatched while he was in Paterson, NJ. Law enforcement sources tell us cops were dispatched to Montclair Ave and Paxton Street around 5 AM over a fight with shots fired. Sure enough, they located 2 guys nearby with gunshot wounds -- 1 was shot in the leg and another in his torso.

A 3rd man thought to be involved checked himself into Hackensack Medical Center soon after.
ABC News says it all went down inside and outside of a 24-hour deli. 
Hours later, that chain popped up on Instagram with Fetty's alleged long time rival Raheem Thomas of "Muscle Team Fuzz" rocking it.
Thanks to Raheem's foolish move, he was arrested but only booked for asaault and weapons charges and not robbery.   The site says:
Sources tell us Thomas and Fetty have had a "deep rooted" beef over music deals for years. We're told Thomas' crew had warned Fetty to "stay out of Paterson" ... even though it's his hometown.
Interestingly, Raheem says he didn't steal it.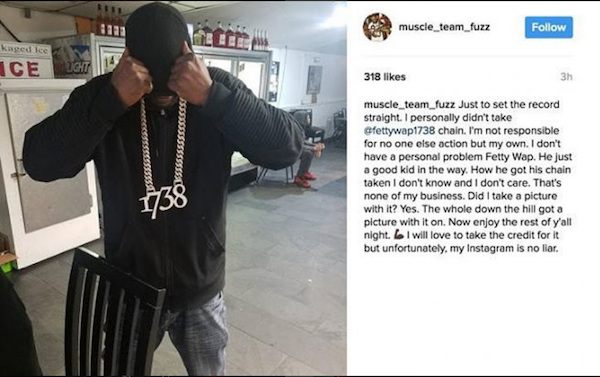 Why take a pic with the chain -- AND post it -- if you didn't want to be caught up in the thievery drama?! 
When doing it for the 'Gram goes wrong.  We can't even....
Photos: Instagram