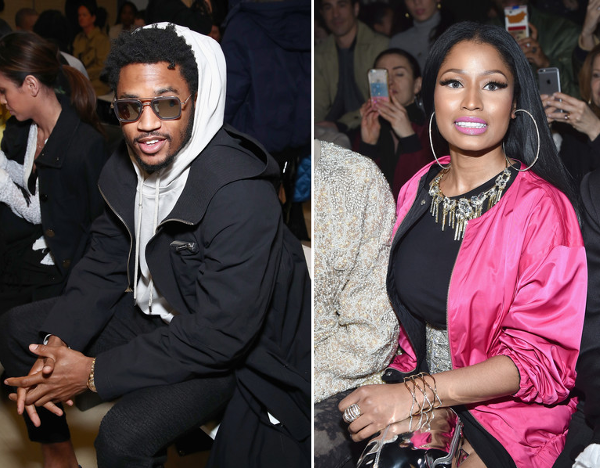 Trey Songz says Nicki Minaj hasn't apologized for that Twitter foolery that popped off weeks ago, and he goes in about it (and his conversation with Meek Mill).  Get it inside, plus Nicki's new track with Lil Wayne and David Guetta.
Trey is still kinda pissed that Nicki Minaj disrespected him during that Remy Ma "SHEther" drama.  And he may have a right to be.
For some reason, Nicki came for Trey (and everybody else except Remy Ma) once Remy dropped her diss track and others chimed in with responses.  Remy said on the track that Nicki smashed Trey, and Trey immediately put out an Instagram video saying it wasn't true.  Apparently Nicki missed that and took his follow up tweets as subliminal shade.  They went back and forth and it got extra petty.
Now, Trey -- who drops his Tremaine album today -- is saying he deserves an apology which he hasn't received.  He did an interview on Power 105's The Breakfast Club that aired this AM where he said:
"No she hasn't [apologized]. And Nicki said she gave me six platinum, but let's keep it real, Nicki ain't had shit before 'Bottoms Up." 
Bloop!  He continued:
"I love you Nicki. I love you. You came at me wrong, you disrespected me, but I love you."
He talked about why he still doesn't confirm or deny which women he's smashed (but denied Nicki because they have history).
Trey also revealed he ran into Meek Mill the day all the ish hit the fan on Twitter while they were both in Charlotte for CIAA.  They chopped it up in Trey's sprinter van about what was going on and cleared up any beef they could have possibly had. 
They also went to the studio together and didn't talk about Nicki once, he says.
"I just think it's crazy it's all these beefs and nobody's doing nothing."
All the (quite interesting) Nicki Minaj talk starts a little after the 22 minute mark. 
By the way, Trey kicks off his tour again soon in Detroit, in the same place where he got arrested for allegedly trashing the stage and assaulting a police officer.  He still says he did nothing.
Nicki's staying busy as well.  After dropping "No Frauds" and "Changed It," David Guetta tapped her and Lil Wayne for his "Light My Body Up" track.  Listen below:
Photos: Getty/Instagram