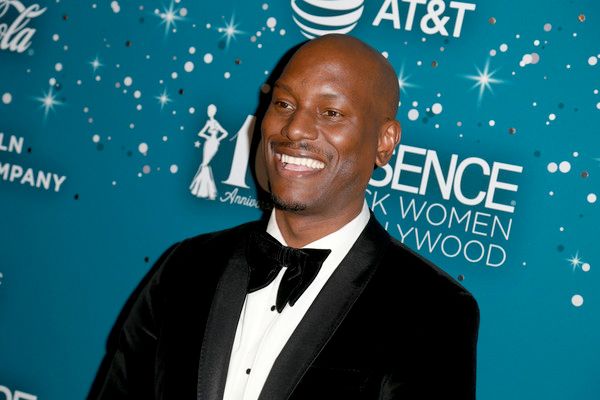 Tyrese is giving his opinion on women who wear fake hair and have had their body surgically enhanced. Read his lengthy post, plus find out how Bow Wow and T.I. came to Snoop Dogg's defense after Trump bashed him on Twitter inside…
Tyrese is known for giving his opinion and he loves telling women what they're doing wrong and why they're single.
Well, his latest Instagram post is no different. Except this time, he goes IN on women who are "fake." In his lengthy tirade, the R&B singer/actor points out women who wear fake hair/weaves, women who have fake body parts, and women who wear fake eyelashes—dubbing them "manufactured clowns."
He focused on the fact that men know the difference.  Apparently he believes women care what men do or don't know.  Not every woman does things to HER body for a man.
He wrote:
"WE KNOW the difference in real hair and fake clips on's we know eye lash extensions, we know fake hard titties pointing in 4 directions with your ribs showing in the middle? Why so much separation? We know when you got little chicken legs and it leads to and oversized #fake ass you guys are really starting to go TOO FAR with manufactured beauty - fake lips, skinny nose barely can even breathe through your own nostrils - Sitting across from you and you couldn't even HIDE your weave tracks?? Come on....... IM NOT trying to be mean I'm just sending a message that US REAL MEN SEE THE BULLSHIT and IF He decide to rock with you it's just cause they wanna get one off no one will EVER take you serious like that or really make that move........... Cause you look like a manufactured clown"
Check out his full diatribe below:
We'll just say, women know the difference between real men and f*ckbois, but you don't see us making dissertations on IG about it....
In other news...
Snoop Dogg's celeb friends are coming to his defense after Donald Trump took to Twitter to throw shade.
The west coast rapper recently released a video titled Lavender where he points a toy gun at a clown dressed like No. 45. He told Billboard he decided to add the scene because "nobody's dealing with the real issue with this (expletive) clown as president." You can check out the video above
Once Trump got word about the video, he tweeted:
Can you imagine what the outcry would be if @SnoopDogg, failing career and all, had aimed and fired the gun at President Obama? Jail time!

— Donald J. Trump (@realDonaldTrump) March 15, 2017
Now, T.I. and Bow Wow are coming to Snoop's defense. First, Tip scorched the "orange agent" in a scathing rant: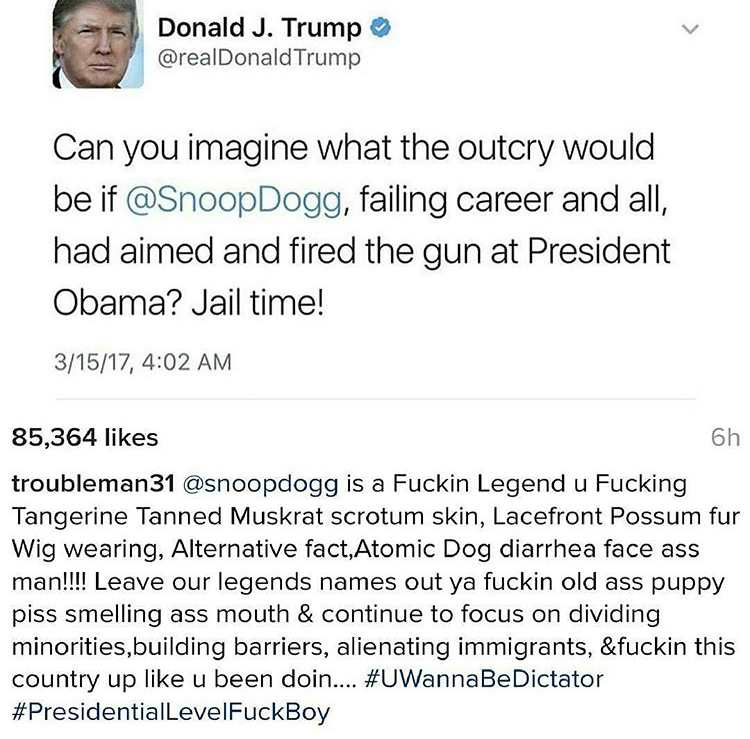 Then, Bow Wow popped back and dragged Trump's wife Melania Trump into the drama: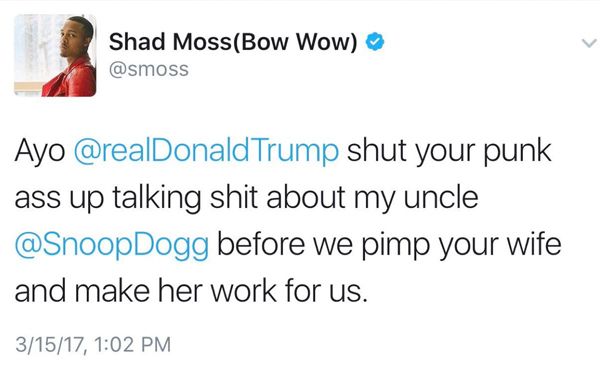 Hmm... that's pretty sexist. Not the best clap back Shad.
While Trump has yet to respond to Bow Wow, the conservative media have.
On FOX News' "The Five," Kimberly Guilfoyleresponded twice that the Secret Service should "kill them" and also said,"I think it would be fantastic if they got a visit from the Federal Marshals and then let's see how tough and gangster they are now."
Kill them? She tried it. Meanwhile, her Instagram comments are in shambles after her remarks:
Bow Wow even jumped in on the action:
Thoughts?
EXTRAS:
Jennifer Lopez just announced "Shades of Blue" has been renewed for a 3rd season just after the show premiered its 2nd season a few weeks ago. Congrats!
Photo: Getty