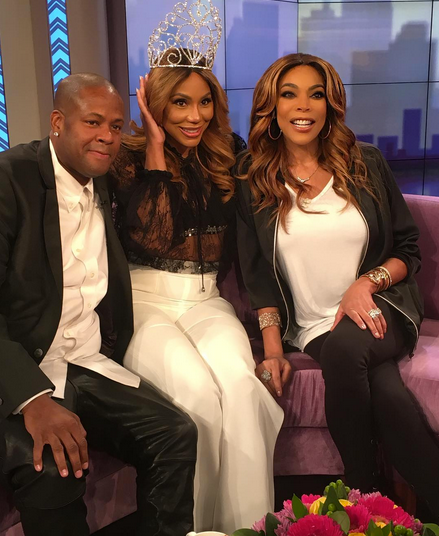 Tamar Braxton and her now slim and trim husband Vince Herbert made a stop on the "Wendy Williams Show" today where Tamar explains why she went on that social media rant about Vince's alleged love child. She also threw tons of shade at her former "The Real" co-hosts." Get it all inside….
Tamar Braxton, who turns 40 this week, pulled down the leaves on a huge palm tree casting extra shade during her appearance on the "Wendy Williams Show" this morning alongside her husband Vince Herbert.
First, we want to point out that Vince revealed he has lost almost 90lbs. He started out weighing 315lbs and has dropped to 230lbs. And he looks amazing! Congrats Vince on the weight loss.
Now, on to Tae Tae.
The "Braxton Family Values" star explained why she went on a full out rant on social media over Vince's alleged love child. Tamar claims a woman came out publicly claiming she slept with Vince on the night before their wedding and ended up giving birth to his daughter. You'll recall, Tamar fired off a lengthy Instagram post to address the alleged "love child," basically saying if Vince had a child, she would accept that child into their family fold.
The mother of the child who's picture Tamar posted hopped on social media accusing her of FAKING the entire story. Hmph.
So, why was she acting a fool on social media? "Girl! I felt like my character was tried," she said.
While Wendy steered clear of asking her "friend" about the domestic violence incident that resulted in a 911 call, Tamar did speak on the ups and downs she and Vince have gown through over the last year.
"We've been through a lot in this past year and it did nothing but bring our relationship closer. I'm not going to sit here and act like we don't argue, we don't fight. We work together, it's a lot of things to disagree about. But, I think that we have come to the point where we know this is where we're supposed to be."
Hmph.
The R&B singer also threw some shade at her former "The Real" co-hosts. Tamar admitted she hasn't spoke to any of them, but she did see Tamera Mowry Housley's twin sister Tia Mowry. She said she saw Tia at the airport. Wendy asked her what did she say, Tamar responded, "I said HI" then rolled her neck. Wendy then asked What do you say when you see Adrienne [Bailon]?"
Tamar explained,"I don't see Adrienne. God is good, Hallelujah."
She then said she doesn't have beef with any of the ladies. "The only person I'm beefing with is the devil," she added.
Girl...
Peep the clip below:
Photo: Wendy's IG