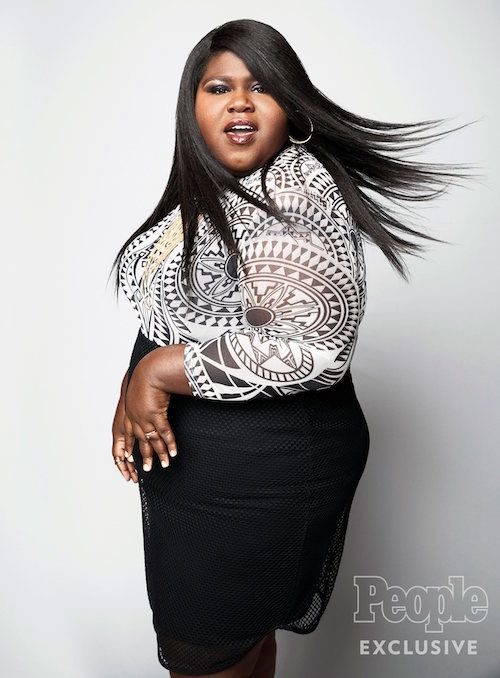 We thought she was beautiful before, and her honesty is making us fall even more in love with this YBF chick.  Gabourey Sidibe reveals she had weight loss surgery, and she's also opening up about why...
The "Empire" star has been flossing a noticeably smaller new body these days on Instagram and red carpets.  Now, we know why.
Gabby Sidibe talked to People magazine during a new photoshoot about why she decided to get weight loss surgery.  By the way, her bubbly personality hasn't changed a bit.
The 33-year-old new author (she wrote her memoir This Is Just My Face!) says she's tried for over a decade to lose weight in every way possible, and opted to go the surgery route in May 2016.  It was not a decision she made lightly.  She actually made the decision to get laproscopic bariatric surgery after she and her older brother Ahmed were both diagnosed with Type 2 diabetes.
She revealed to People:
"I just didn't want to worry.  I truly didn't want to worry about all the effects that go along with diabetes. I genuinely [would] worry all the time about losing my toes."
Makes sense.  And before you criticize her for taking the easy way out, Gabby says:
"The surgery wasn't the easy way out.  I wasn't cheating by getting it done. I wouldn't have been able to lose as much as I've lost without it."
According to People, Gabby also revealed that she battled depression, anxiety and bulimia after her parents — a subway singer (mom Alice) and taxi driver (dad, Ibnou) — split.  She has since gotten therapy.
About the surgery itself, it's pretty drastic.  Gabby described it in her upcoming memoir out this May saying:
"My surgeon said they'd cut my stomach in half. This would limit my hunger and capacity to eat. My brain chemistry would change and I'd want to eat healthier. I'll take it! My lifelong relationship with food had to change."
But it's her outlook on how weight relates to beauty that we LOVE.  She says she was always beautiful, and this surgery had nothing to do with that.
"There's nothing ugly about me. Anyone trying to convince me that I am — and it's usually me — is wasting her time," she says. "I was in a war with my body for a long time. If I'd started treating it better sooner, I wouldn't have spent so many years hating myself. But I love my body now.

"It has taken me years to realize that what I was born with is all beautiful," she writes in her book. "I did not get this surgery to be beautiful. I did it so I can walk around comfortably in heels. I want to do a cartwheel. I want not to be in pain every time I walk up a flight of stairs."
As for her weight loss goal -- she says it's private:
"I have a goal right now, and I'm almost there," she says. "And then once I've got it, I'll set another. But my starting weight and my goal weight, they're personal. If too many people are involved, I'll shut down."
We totally get that.  The battle still continues after the surgery as well, as Gabby has completely changed her diet and exercise regime:
Since the procedure, Sidibe has changed her eating habits — working with a nutritionist — and upped her fitness regimen, working out with a trainer, swimming and riding a tricycle around the Empire set.
We applaud her for her honesty and for sticking to making a positive change in her life.
Photos: People magazine