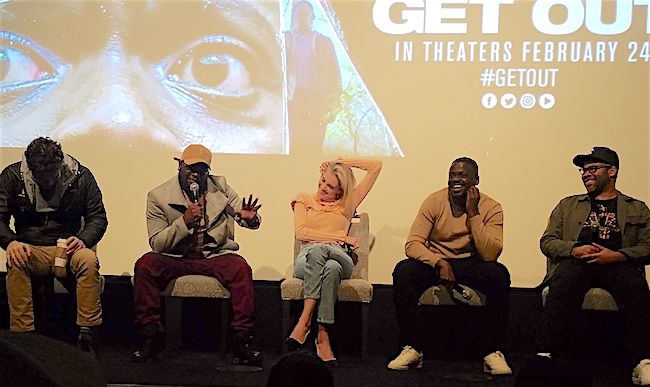 As the most buzzy movie in America 'Get Out' continues to rake in the dollars ($46.2 million to be exact), the flick's leading man and British actor Daniel Kaluuya gives the perfect response to racism here in the States. You gotta hear it....
Daniel Kaluuya, Get Out's most buzzed about star (and hands down our newest crush, esp. with that ridiculously sexy British accent!), may have been totally under the radar in his career so far, but not anymore.  As the "horror" movie continues to do MAJOR numbers, especially for a rookie director like Jordan Peele, people are paying close attention to who's who.
We caught up with the actor -- who still resides in Britain -- at a recent VIP screening in NYC.  Before that, he spoke alongside his castmates about pressing issues like race -- the main theme throughout the movie.
When asked if he paid attention to the racial strife and police brutality here in the states during the trials of the killers of Trayvon Martin, Eric Garner, etc., his answer was surprising.
While the race issue isn't exactly the same (according to Daniel, it's not consistently as in your face as it is here in America), he totally empathizes with blacks who are victims of racism.  And his take on it is quite interesting. 
On the part of the movie that broke him down the most, Daniel said:
"When Chris was in the chair, and he was like, Why us, why black people? And it's like, yeah man. Like, what the fuck have we done? What have we done? What is this happening? What did we do? We're getting like persecuted, bad, and killed. What have we done?

It kind of shook me man. Everyday you live your life in London and everywhere you go, and it's some of bullshit. Like, what did I do to you? I came in the game in the 80's! Now I have to live this. I have to navigate this my whole life in order to live my dreams."
He also goes off about people thinking racism is new and why majority of Africa is colonized by England. Plus, Jordan says this movie taught him an interesting lesson about the lack of leading roles for black male actors.
Watch the video above!