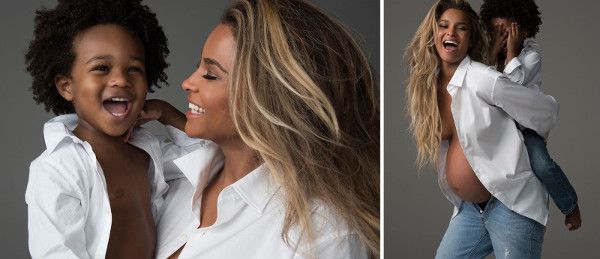 Ciara, her bump and Baby Future are melting our hearts with their cuteness in a brand new shoot for Harper's Bazaar. See the pregnancy shoot and read up on the five things we learned from her interview inside…
Guard your ovaries!
Ciara, her growing baby bump and her son Future Wilburn are the stars in a brand new pregnancy shoot for Harper's Bazaar. And their mother-son-baby cuteness is melting our hearts.
Decked out in matching outfits, CiCi and her baby boy are all smiles as they cuddle in front of the camera for the mother-son shoot in Harper's Bazaar. The R&B singer also flosses her growing baby bump in a few shots solo for a fierce set of pregnancy shots.
With a new album and a new baby on the way, Ciara has her hands full. But, her NFL husband Russell Wilson makes sure she, the new baby and Future Jr. are good as she gears up to give birth for a 2nd time. CiCi is at a good place in her life and it's so obvious. Since hooking up with Russell, there has been nothing but big smiles and good times as we all look on and cheer on their #BlackLove.
Below are 5 things you need to know about how Ciara's strength, loving herself, steering clear of social media drama and more.
1. Ciara's husband Russell Wilson is always in her corner and if you're significant other doesn't ride for you until the wheels fall off, maybe they're not the one.
"When you know they're going to be your champion, always in the corner..." I joke that her quarterback is a cheerleader, and she agrees. It's too rare to have straight men back us up, I say. "If someone's not supporting you and your vision and your dreams," Ciara agrees, "—whether it's your relationship partner, your friend, whomever, then you've got to make sure to keep it moving. If people aren't lifting you up, even if you're the strongest person in the world, eventually it does chip away at you. You don't even realize that you're losing yourself. And that's the scariest place to be in life… I don't want to lose myself. I love myself too much. I love life too much."
2. She's come to realize that being vulnerable is a form of strength.
"Once you're able to really be truly truthful with yourself, it's life changing," she says. "You have way more compassion than you imagine, you're sensitive to the right things." Ciara learned the strength in vulnerability, she tells me, through the birth of her first son. Baby Future taught her patience, "above all."
3. Future Jr. is more than excited to become a big brother.
"He'll randomly pull my shirt up and be like, 'I want to see the baby,'" Ciara says. "'Hello, baby. How you doing, baby? I love you, baby. Okay, talk to you later, baby. Bye, bye.' Then he'll kiss me on my belly and put my shirt back down."
4. Ciara knows how to block all the hate, especially when Internet trolls try to pit her against another powerful black woman.
"There's this unspoken word: love. When you meet successful powerful women, you show each other love, because it is a tough environment."
5. She's ready to make the world dance with her upcoming album and she's at an incredible place in her life right now.
"I want to make the world dance."
"I'm just super excited about this time in my life. Like, Oh my gosh, I can see my son running around, and soon it's going to be two of these creatures running around! Our hands will be full of non-stop action."
True indeed.
Peep more flicks and clips from Ciara's pregnancy shoot below: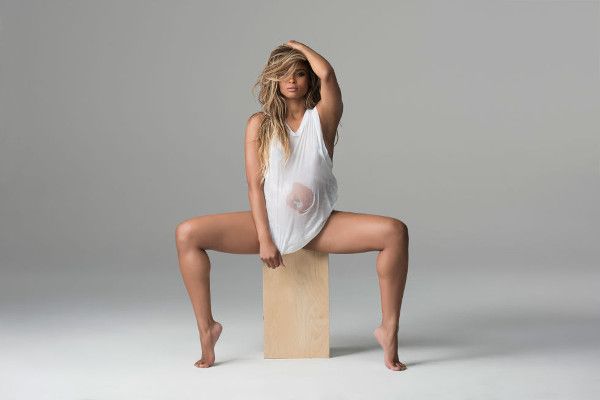 Gorge.
Ciara still hasn't revealed the sex of the baby or how far along she is. Do you think she and Russell are having a boy or a girl?
Photos: Dani Brubaker via Harper's Bazaar