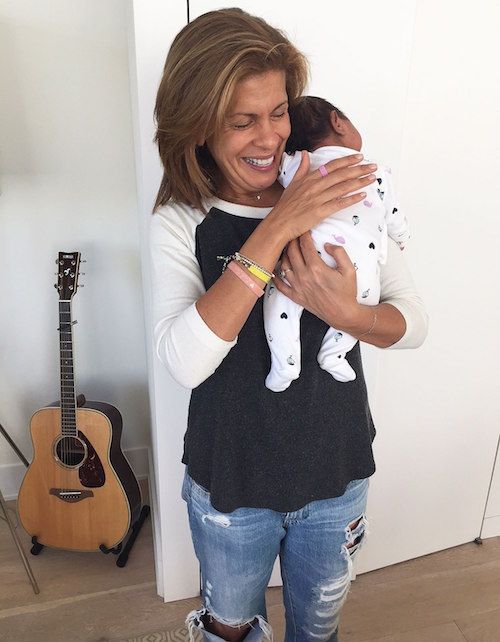 "Today Show" anchor Hoda Kotb just became a mom a 52, and it's got everyone in tears.  Meet her brand new baby girl inside...
Her dreams came true -- Hoda Kotb is officially a mom!
The tv host revealed the news by calling in to the "Today Show" this morning, and also called into her 4th hour show which was being co-hosted by Kathie Lee Gifford and Jenna Bush Hager. 
She adopted a baby girl, Haley Joy, who was born on Valentine's Day. Awww!
"Haley is because of Halley's Comet," Kotb told an emotional Kathie Lee and Jenna. "It was one of those things where I just picture her sailing through the sky."
Sweet!  She further explained the name saying:
"My sister and I were talking on the phone and she was saying, 'You know, I'm Hala, you're Hoda, our niece is Hana — what about Haley?' "

"Joy just because she brings us joy," Kotb said. "She's got a beautiful way about her."
Hoda said she's getting used to actually saying she's a mom:
"Can you believe I have a daughter?" she asked. "I didn't know that my heart can feel like this. With all the love I've ever had in my life — I've had the love of a wonderful mom, a wonderful man, the best siblings — I never ever imagined that I could feel this kind of … it's like a warm hand on my heart. She's learning up against me and I'm over the moon."
She posted about her daughter on social media, and she's rightfully overjoyed:
Be still my heart. My prayers have been answered #HaleyJoy and as a friend said today-- she is "right on time"

— Hoda Kotb (@hodakotb) February 21, 2017
My girl #haleyjoypic.twitter.com/CauLYRja3e

— Hoda Kotb (@hodakotb) February 21, 2017
Congrats to Hoda on her amazing new joy!
EXTRAS:
1. Magic Johnson was just named to President of Basketball Operations for the Lakers in a huge restructuring.  STORY
2. Uber CEO Travis Kalanick says the company has hired former Attorney General Eric Holder to probe allegations of sexism.  STORY
Photos: Hoda Kotb