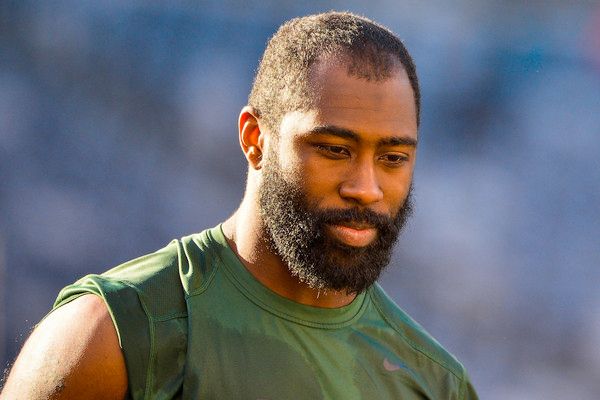 New York Jets player Darrelle Revis has got caught up with the law and copped four felony charges after a situation went down in Pittsburgh. Get the details inside…
Things aren't looking good for New York Jets baller Darrelle Revis.
It always seems when the off-season rolls around, drama seems to follow NFL ballers. This time, cornerback Darrelle Revis allegedly got involved in a fight that has resulted in him receiving four felony charges.
According to NFL.com, Revis was charged with felony aggravated assault and robbery for his alleged involvement in an altercation that took place in Pittsburgh early Sunday morning.
Police charged him with two felony counts of aggravated assault, one felony count for robbery, one felony count of conspiracy and a misdemeanor count of terroristic threats. Sheesh!
Here's what allegedly went down, via court documents:
According to the investigation, a 22-year-old male from Kittanning was walking along E. Carson Street when he spotted a male who resembled Aliquippa native (Darrelle) Revis, a cornerback in the NFL," the Pittsburgh Department of Public Safety's statement reads. "He asked if the man was (Darrelle) Revis and he confirmed that he was. The male began recording the interaction on his cellphone and continued following Revis. At some point, Revis snatched the cellphone away and attempted to delete the video.

Another 21-year-old male from Ross Township attempted to help the 22-year-old retrieve the cellphone. Revis then tossed the phone onto the roadway. A verbal argument followed. A male came to assist Revis. Both the 22-year-old and the 21-year-old state they were punched then remember waking up to talk to police. Witnesses state the two were unconscious for about 10 minutes. The Officers viewed the cellphone video and confirmed that the person was Revis.
Revis' attorney Blaine Jones confirmed Revis sought medical attention after the incident. He told NFL Network's Mike Garafolo on Friday that he and the Pittsburgh Police Dept. are "working out the details of turning Darrelle in to law enforcement." As of the time of this post, Revis has not turned himself in.
To make matters worse, this situation could put him at risk of being let go by the Jets. A Jets spokesman said the team was aware of the incident and had spoken to Revis. An NFL spokesman said the league would look into the matter.
Damn.
Photo: Getty