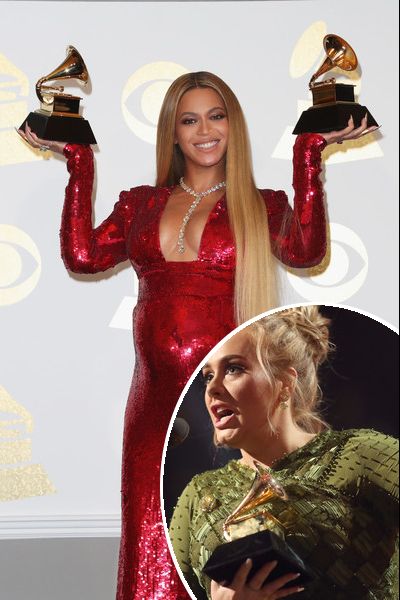 When Adele swept all the major Grammy categories Sunday night, folks were in shock.  But none more than Beyoncé.  Find out why inside....
Mutual stans Adele and Beyoncé were battling it out in several categories Grammy night  While Beyoncé did take home a couple trophies in the urban categories, she lost out to Adele and her 25 project in the more mainstream categories.  It's precisely the problem Kanye and many others have with the Grammys and what they see as cultural bias.
Interestingly, once Adele won the biggest award of the night, Album of the Year, it was her acceptance speech that had everybody both shocked and in tears at the same damn time.  Including Beyoncé herself.
Adele said she couldn't accept the award (but she def did) because the person who truly deserves it is the queen, Beyonce.  The British chick thanked Bey for making Lemonade which basically gave her -- and her "black friends" as she put it -- life.
We get what she was saying, and so did Beyoncé.  The "Sandcastles" singer was in tears by the end.  Awww!
Watch it below:
Was Beyoncé robbed of Album of the Year?
Photos: Getty