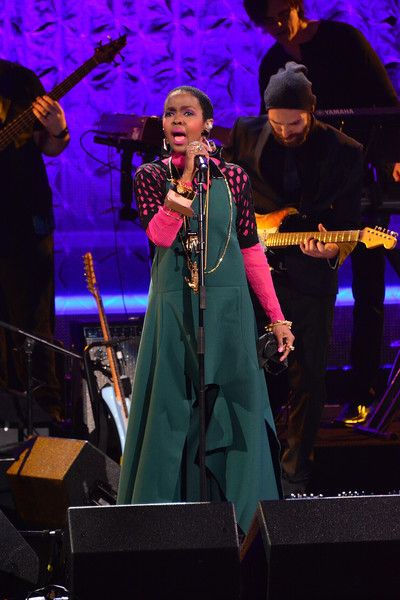 Lauryn Hill was...being Lauryn Hill again the other night.  Get into her apology to fans as she made them extra pissed after she was 3 hours late.
Lauryn Hill is celebrating the 25th anniversary of The Miseducation of Lauryn Hill album, and she's performing dates around the country.  But the other night in Pittsburgh, she damn near left fans high and dry.
Folks took to social media to say that after the opening act, Lauryn was nowhere to be found.  It was also said no one from her camp kept the crowd informed on WTF was going on.
Many fans had already started pouring out of their seats and lining up for their refunds before she finally decided to take the stage:
#LaurynHill refund Line at Heinz Hall. Killing me softly. #NoShowpic.twitter.com/pckZQa4HgO

— Just Merry (@jp_pgh) February 1, 2017
Now, Lauryn is explaining what went down.  Y'all know she always has an excuse.  This time, she said the snow in NYC held her band up from getting there in time.  Here's the letter in full:
To my fans in Pittsburgh: pic.twitter.com/uex4awMM2R

— Ms. Lauryn Hill (@MsLaurynHill) February 2, 2017
Twitter STILL had zero chill:
@MsLaurynHillpic.twitter.com/CMQsVKO8ld

— King Natles (@natnatles) February 2, 2017
@MsLaurynHill there was barely any snow miss girl. A liar. A scammer. pic.twitter.com/sdJu9II0Wu

— YOUNG NUBI  (@KateMimosa) February 2, 2017
@MsLaurynHill you do this at every concert! Shit is so rude. Mad disrespectful towards your fans. Smh

— J-P Rosa (@1itoPablito) February 2, 2017
@MsLaurynHill You should start selling performances as magician acts. So, people cant complain for you not showing up. #Houdini

— Uncommon  (@uncommonIG) February 2, 2017
@MsLaurynHill yeah yeah, excuses excuses. You could have easily told your fans immediately. You don't deserve fame. #boycottlaurynhill

— Russian Puppeteer (@twitt_reed) February 2, 2017
Sheesh.  Lauryn girl....
Photos: Getty/Twitter