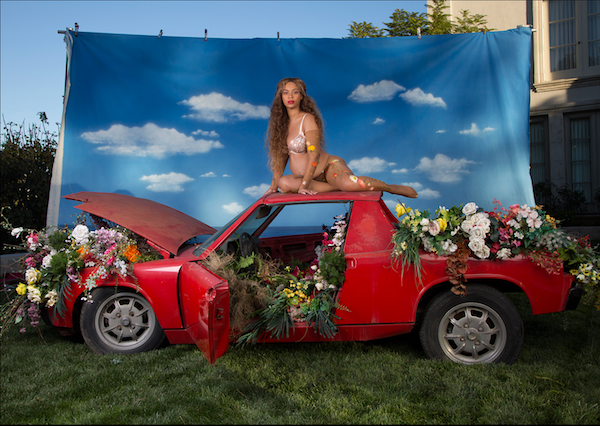 Beyonce just shattered the record for the most liked Instagram photo in history...and it only took her a few hours.  Plus, celebs are stanning out over her twinsie news, but Coachella is extra shook.  Get it all inside...
Before releasing a few more gorgeous maternity shots (one is above), Beyoncé broke the record for the most liked Instagram photo, previously held by Selena Gomez. And it only took her a few hours to get well over 7 million likes on her announcement photo (seen below).
Celebs are stanning out, but not everybody is super gung-ho about her pregnancy.  With her headlining stint at Coachella about three months away, the festival producers are freaking out just a little bit about her performance status.  Apparently, they were left completely in the dark about her pregnancy and found out with the rest of the world on Wednesday.
TMZ reports:
Goldenvoice -- a subsidiary of AEG Live which produces the event -- did not learn Beyonce was expecting twins until they saw it Wednesday ...

Goldenvoice is playing it close to the vest, but our sources made it clear they're not thrilled they went out on a limb with the announcement, given this is a high-risk pregnancy. Bey is 35 and her first pregnancy with a single child was difficult, requiring bed rest.
And nope, they don't even know how far along she is.  And have been unable to reach her camp:
Our sources say Goldenvoice still has no idea how far along she is, which obviously becomes a factor for the April event.  In fact one source says Goldenvoice tried in vain Thursday to reach Bey or her reps.

A source connected with Beyonce told us the singer still plans to perform, assuming her pregnancy goes well.
Apparently, the producers say they're not TOO worried about it, but they have enough connects to grab a last minute band to fill in if necessary.  they also claimed the festival was nearly sold out before the lineup was even announced.
Meanwhile, Beyonce's family and celeb fans are congratulating her all over the place on her and Jay Z's twins-on-the-way!  From Rihanna to Latavia to Ms. Tina to Ellen, everybody's chiming in:
Me too! pic.twitter.com/4ERcCd8NSn

— Ellen DeGeneres (@TheEllenShow) February 1, 2017
Former groupmate LaTavia Roberson and dad Mathew Knowles:
Congratulations to The Carter's on their expanding family

— LaTavia Roberson (@IamLaTavia) February 2, 2017
My she-ro! @beyoncehttps://t.co/sFG3ha6R4j

— LaTavia Roberson (@IamLaTavia) February 2, 2017
Thank you guys for your well wishes and blessings. I'm the happiest grandfather in the world!!! Congratulations #Beyonce and #JayZ! pic.twitter.com/JaIV5MiCx3

— Mathew Knowles (@MathewKnowles) February 1, 2017