Almost immediately after news broke that Megyn Kelly would possibly be replacing Tamron Hall and Al Roker at the 9AM hour on "Today," Tamron announced she's exiting the network all together.  Including her own MSNBC show. Wow.
Details inside...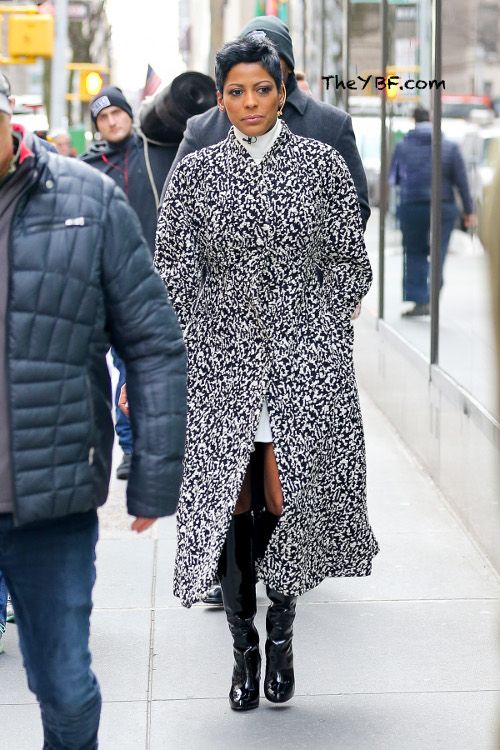 Yesterday, we noticed NBC News host Tamron Hall walking out of 30 Rock looking a bit down and out (directly above).  And now we know why.
She has officially exited NBC & MSNBC, and yesterday was her last day serving as anchor. 
So much for a subtle announcement or going away party.  Something tells us it's NOT an amicable split.
Yesterday, we told you NBC was supposedly pushed her out by not offering her a deal for when her contract expires in February, and they're using Megyn Kelly and offers of less prominent roles to do so.  Looks like there's truth to it. The source said:
"Tamron's contract is up in February and they're not giving her an offer to stay," the source tells EUR/Electronic Urban Report. "NBC is trying to replace her with Megyn Kelly, but NBC wants everybody to believe that this is a really beautiful deal and everybody is kumbaya….. and that is not the case."
"They're trying to move Tamron out of NBC. They offered her less money and a vague role and they are replacing her with such a bigoted person … and there's no reason to."
Just minutes ago, NBC News put out a statement confirming Tamron has officially exited the company after 10 years.  Al Roker is staying.
Tamron Hall will be leaving NBC News and MSNBC when her contract expires this month. Yesterday was her last day as an anchor on both networks. Tamron is an exceptional journalist, we valued and enjoyed her work at TODAY and MSNBC and hoped that she would decide to stay. We are disappointed that she has chosen to leave, but we wish her all the best.

Tamron joined MSNBC and NBC in 2007, and became part of the TODAY team in 2014. She has also worked passionately to bring awareness to domestic violence, highlighting the issue on her show "Deadline Crime, with Tamron Hall."  She earned an Edward R. Murrow Award for a story that aired on NBC News, and an Emmy in 2010 as a member of NBC News' live inauguration coverage.

Al Roker will continue to co-host TODAY's Take at 9am weekdays until a new morning lineup begins in the Fall of 2017.

Tamron asked that we share the following. "The last ten years have been beyond anything I could have imagined, and I'm grateful.   I'm also very excited about the next chapter.  To all my great colleagues, I will miss you and I will be rooting for you."
No matter how talented and fabulous you are, a blonde victim who likes to mix it up with Trump seems to have all the luck. 
Tamron also has a show on iD channel that we hope she will continue and hopefully several other options. 
Keep your head up T!
Photos: NBC/Splash