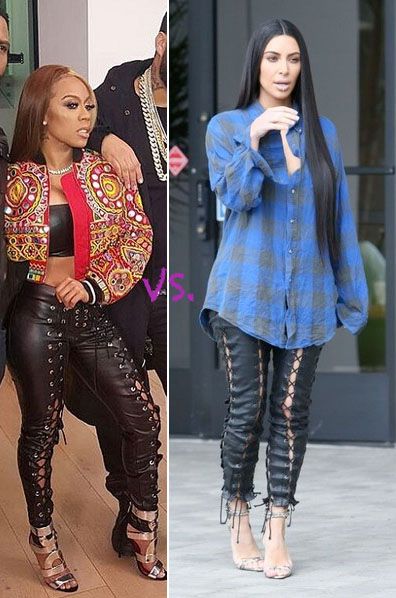 It's a battle of the lace up leather pants as Keyshia Cole and Kim Kardashian West were spotted rocking similar lace up leather pants. Decide who takes the fashion face off crown inside…
Lace up leather pants seem to be the trend in Hollywood these days, putting a provocative spin on regular pants. We spotted Keyshia Cole and Kim Kardashian West rocking the trend recently and we had to do a face off.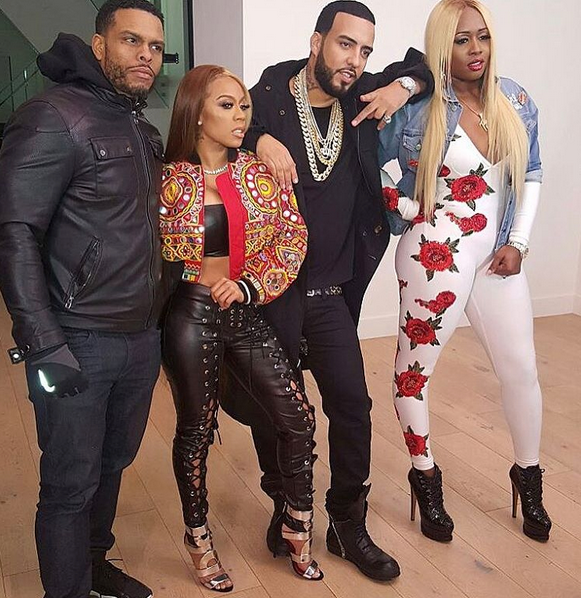 A few days ago, Keyshia Cole rocked a pair of Antidote LA Peyton vegan leather lace up pants paired with the brand's strapless vegan leather top. She finished her look with an embellished cropped Moschino Jacket and gold sandals. The R&B singer was on the set of her new video "You" featuring Remy Ma and French Montana.
Meanwhile...
Kanye West's wife Kim Kardashian West was spotted rocking the trend as she exited a studio in L.A. last week. The reality star wore corset-style Unravel leather pants that she paired with an oversized black-and-blue plaid shirt and silver sandals.
The proactive pants seem to be a favorite of Kim's because she also wore them back in September as she and her sister Kourtney Kardashian left the Ritz Hotel in Paris during Paris Fashion Week.
So....
WHO ROCKED IT BEST?!
Photos: Keyshia's IG/Remy's IG/FameFlynet