YBF actors won BIG last night at the Screen Actors Guild Awards!  We've got the quotable speeches that were just as powerful as the wins...
Taraji P. Henson, Janelle Monae, Octavia Spencer and the rest of the cast of Hidden Figures nabbed the SAG Award for Outstanding performance by a cast in a theatrical motion picture.  But it's their speech that had us ready to cry more than them!
Taraji said during the emotionally charged speech:
The shoulders of the women that we stand on are three American heroes – Katherine Johnson, Dorothy Vaughn, Mary Jackson.  Without them, we would not know how to reach the stars.  These women did not complain about their circumstances.  We knew what was going on at that time.  They focused on solutions.
See it in full below: 
Viola Davis is still racking up awards.  She copped the SAG Actor for Outstanding performance by a female actor in a supporting role for Fences.  The Oscar nominee thanked August Wilson, as well as her co-star and director Denzel Washington saying,"Denzel, what can I say?  A friend and a fan.  What can I say?"

Outstanding performance by a male actor in a supporting role went to Mahershala Ali for his epic role in Moonlight.  He got choked up while talking about Moonlight showing what happens when there's persecution.  He also gave a powerful statement about being Muslim, and what really matters:
"My mother is an ordained minister. I'm a Muslim. … She did not do back flips when I called to tell her I converted, 17 years ago. But, I tell you now, we put things to the side. And I am able to see her; she is able to see me. We love each other. The love has grown. And that stuff is minutea.  It's not that important."
Major congrats to an emotional Denzel Washington who nabbed Outstanding performance by an actor in a leading role for Fences.  He told the crowd:
"SAG, listen, were just actors.  I'm famous and all that kinda stuff but I have the same fear opening night, or first preview that anybody else has.  We all have the same job.  This is not a testament to me, but it's a testament to August Wilson."
He got choked up while recognizing "the guys who don't get recognized."  Awww!
Major congrats to the fab cast of Stranger Things, as they won for Outstanding performance by an ensemble in a drama series.
Get into the celebration pics below!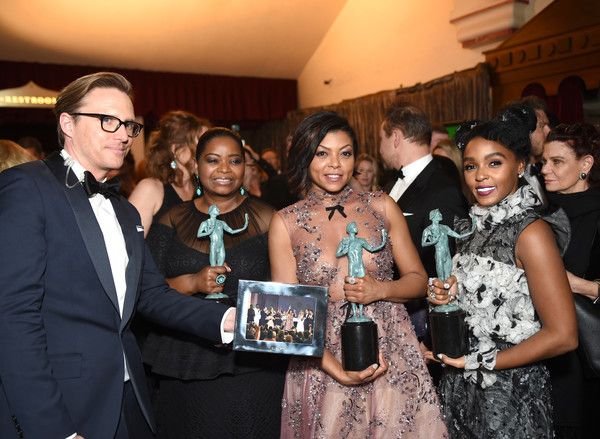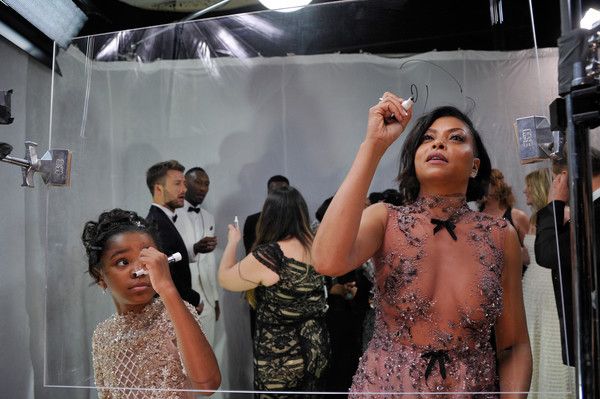 Actors Saniyya Sidney, Janelle Monae and Taraji P. Henson accept Outstanding Performance by a Cast in a Motion Picture for 'Hidden Figures' onstage during The 23rd Annual Screen Actors Guild Awards at The Shrine Auditorium on January 29, 2017 in Los Angeles, California.
Photos: Getty