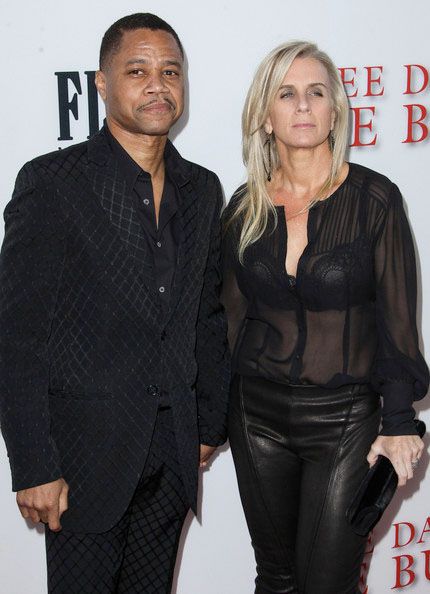 Cuba Gooding Jr. has filed for divorce from his estranged wife Sara Kapfer ending their 22-year marriage. Deets inside….
Cuba Gooding Jr. and his estranged wife Sara Kapfer are headed down Splitsville Lane. "The People vs. O.J. Simpson" star has officially filed for divorce from his estranged wife Sara Kapfer after 22-years of marriage.
The Hollywood actor and the schoolteacher met in high school and ended up trekking down the aisle in 1994.
TMZ got their hands on court documents that reveal Cuba requested for joint legal and physical custody of their 10-year-old daughter Piper. The couple also has two adult children, Spencer and Mason. He has reportedly agreed to pay spousal support.
While he has agreed to pay spousal support, he wants his earnings that he cumulated since their legal separation to not be added in when it comes to shelling out monthly payments. Which means, she will not get any money he received since starring in the award winning limited series "The People vs. O.J. Simpson."
This uncoupling was years in the making. The 47-year-old actor's estranged wife filed for legal separation in August 2014, revealing they had split in April of that year. Despite their legal separation, the couple dated on-and-off.
Earlier this year, Cuba sat down with daytime talk show host Steve Harvey to chat about his estranged wife. He said,
"Listen, you know how things happen," he said. "Things happen, you grow up … I took my wife on a date the other day. Took her to see a movie the other day. Yeah. We got kids, man. We got to keep this together, strong, you know? That's how I see it."
Oh...ok.
Since separating from his wife, Cuba has been doing the absolute most. After the Golden Globes a few weeks ago, the Hollywood veteran was spotted wearing a KFC bucket on his head. Don't ask us why because we have no idea why.
Actor Marlon Wayans snapped the shot and posted the picture on social media pages. On Twitter he captioned, "This is without a doubt THE CRAZIEST N-word I know @cubagoodingjr." He also posted the picture on his Instagram page with the caption, "CAPTION THIS!!!! I can't!!! Laughing too hard love this NUT! #whiteboywasted"
This guy....
Photo: Getty/Marlon's IG