For folks looking to do something other than celebrate Donald Trump's forthcoming inauguration, Solange Knowles hit the stage to soothe Washington D.C. Meanwhile, LGBTQ activists took a different approach and got super turnt outside of vice-president elect Mike Pence's home. More inside…
As an alternative to the pre-inauguration festivities for Donald Trump, Solange Knowles Ferguson was tapped to perform at the Busboys and Poets' Peace Ball: Voices of Hope and Resistance at the National Museum Of African American History & Culture last night.
On the eve of the 45th presidential inauguration, YBFers hit the stage for an event to celebrate black culture. The night served as a healing session for those feeling uncertainty about what's to come with a Trump presidency.
And it couldn't get any blacker.
Solange's new LP A Seat At The Table is unapologetically black. So, it served as the perfect tracklist for the evening. Standing before about 3,000 guests, the soulful songtress belted out songs from her latest album, including "Cranes in the Sky," Weary," "Mad," "Don't Touch My Hair," and "Bad Girls," a cut from her True EP.
Peep clips from her set below:
Jazz bassist and singer Esperanza Spalding was also on the line up for the pro-black event.
Peep a clip from her set below:
New Jersey Senator Cory Booker spoke a few words during the event. Early this morning, Sen. Booker issued a message to the masses that now is not the time to give up. "It's time to get up; to stand up, to speak words that heal, help, and recommit to the cause of our country."
Peep his full message below: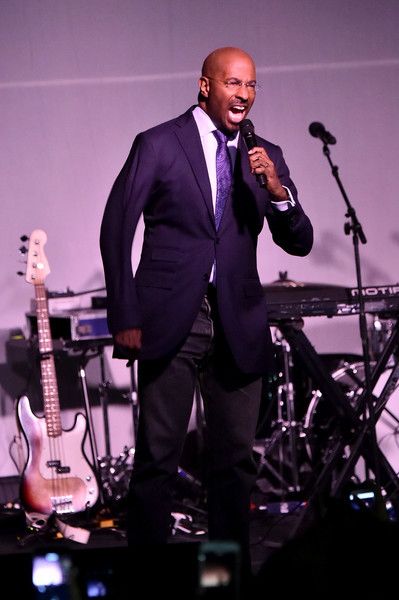 CNN commentator Van Jones praised political activist Angela Davis as she took the stage to introduce Solange.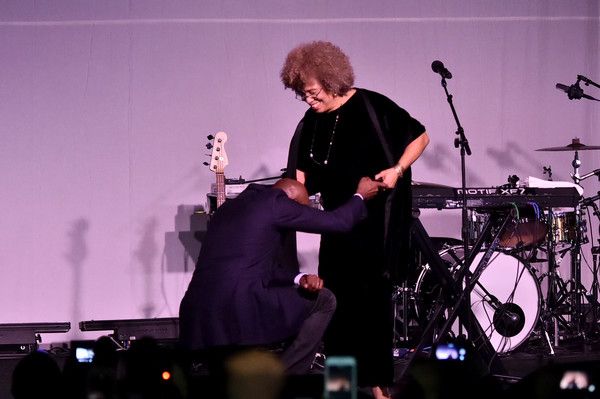 Ha!
Singer Raheem DeVaughn and civil rights activist/Black Lives Matter leader Deray McKesson were also in the mix.
Elsewhere in the city...
Hundreds are dancing to @rihanna outside of VP Elect Mike Pence's DC house to protest what they view as his anti-gay policies. pic.twitter.com/Kim1nbAjHi

— Ellison Barber (@ellisonbarber) January 19, 2017
On the eve of the 45th presidential inauguration, hundreds of LGBTQ activists rolled up outside vice-president elect Mike Pence's home and turned all the way up. They gathered to protest his anti-LGBT record before he's elected into office. If you didn't already know, Pence has a long history of supporting anti-gay policies.
So, the gay community decided to pay him a visit.
Around 200 protestors WERK for Peace and DisruptJ20 got decked out in tutus, rainbow flags and spandex for the twerk fest. They turned up the music and danced in the streets to Rihanna's "Work." Peep the clip above.
They also chanted "Daddy Pence, come dance":
Dance protest has arrived - now dancing a half a block from Mike Pence's rental house. Were chanting "Daddy Pence, come dance" pic.twitter.com/kaUEbUXxAC

— Betsy Klein (@betsy_klein) January 19, 2017
Lordt!
Below are a few more videos from their dance-off protest:
Police blockaded the way about a block from Pence's, but stood by calmly. "Just as the police would do in any democratic country." —Nasr pic.twitter.com/YPzLhsmAZz

— Jack Smith IV (@JackSmithIV) January 19, 2017
If this video of @werkforpeace organizer Firas Nasr leading the protest doesn't make you want to become a political organizer, nothing will. pic.twitter.com/tBHiRMOsa4

— Jack Smith IV (@JackSmithIV) January 19, 2017
"We are here / we are queer / we will dance" chants at #LGBTQ dance party outside Mike Pence's house on his last night living there pic.twitter.com/N4ZkQVF8qB

— Alexander Rubinstein (@AlexR_DC) January 19, 2017
Well that's one way to send off the vice-president elect.
Photos: Getty/On-Site Fotos