Chance The Rapper's younger brother, Taylor Bennett, reveals he's a bisexual male. And he hopes to help others dealing with the same struggles he has/is going through. Find out what Chance said about it, plus details on Tyson Beckford's new gig inside…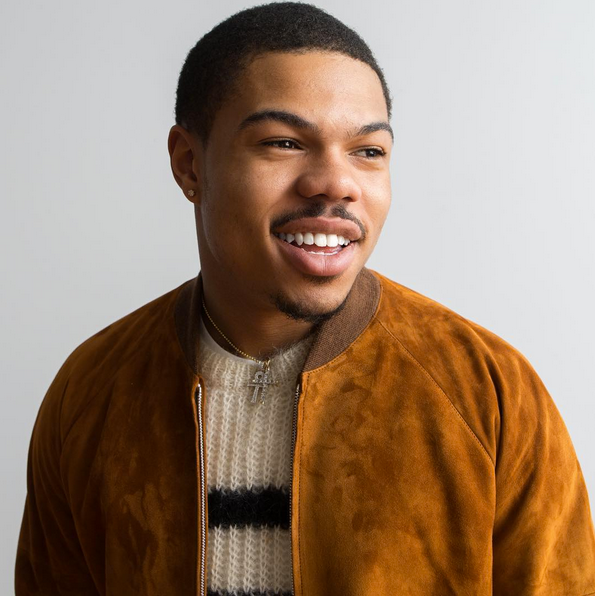 Chance The Rapper's younger brother, Taylor Bennett, is free. In a series of candid tweets, Taylor revealed he is bisexual. And he did it all on his 21st birthday.
"Growing up I've always felt indifferent about my sexuality & being attracted 2 one sex & today I would like to openly come out to my fans," he tweeted. "I do recognize myself as a bisexual male & do & have always openly supported the gay community & will keep doing so in 2017. #ThankYou."
Peep his tweets (read from the bottom up):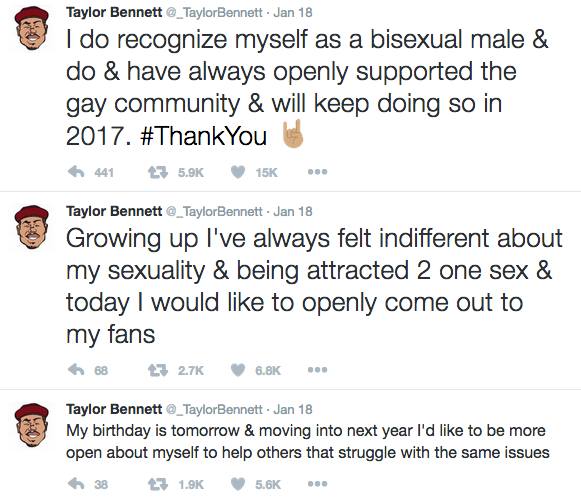 Several of his fans (yes, he raps likes his brother) tweeted him back in support, thanking him for being so transparent and supporting the LGBTQ community. His brother was among those in support.
In a video clip posted to his Twitter, Chance said (while holding his daughter Kensli), This my family right here. I will kill somebody over these people. Don't play with me. He's got God and me behind him, he cannot fail he cannot fail."
Check it:
Love this man right here, through any and all. He has grown into a great man. He's got God and me behind him, he cannot fail he cannot fall pic.twitter.com/o0szrB5dBk

— Lil Chano From 79th (@chancetherapper) January 19, 2017
That brotherly love!
Well good for him for living in his truth.
In other news....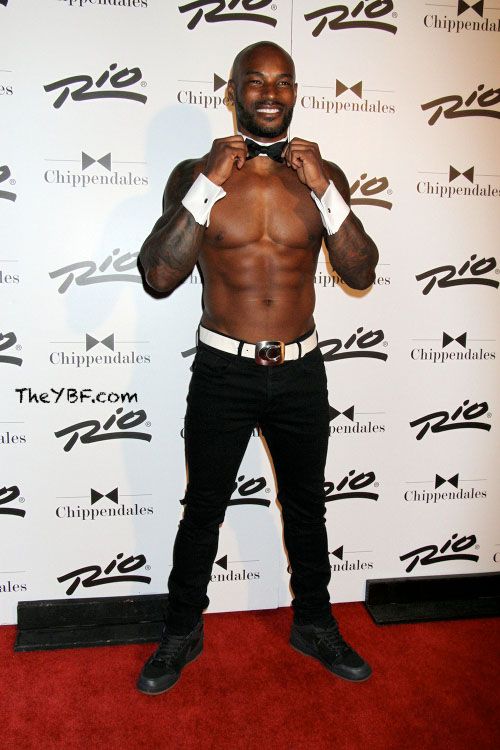 Supermodel Tyson Beckford has landed a new gig! And if you're into half naked men dancing around in Speedos, you'll be more than interested on the details of his new job.
The YBF hottie is heading back to Las Vegas for a 3-month residency at Chippendales. After appearing for a 3-week guest appearance a few years ago, ticket sales went through the roof. So, they want him back. But, this time, he's doing things his way.
It's being reported he'll have more dance numbers and the choreography will be catered to him, as opposed to last time when he just joined the other dancers for their dance routines.
You'll be able to see what Tyson is working with when his residency starts March 30th. In the meantime, catch a quick sneak peek HERE.
Photos: Getty/Taylor's IG/Karl Larson/Al Powers/Hew Burney