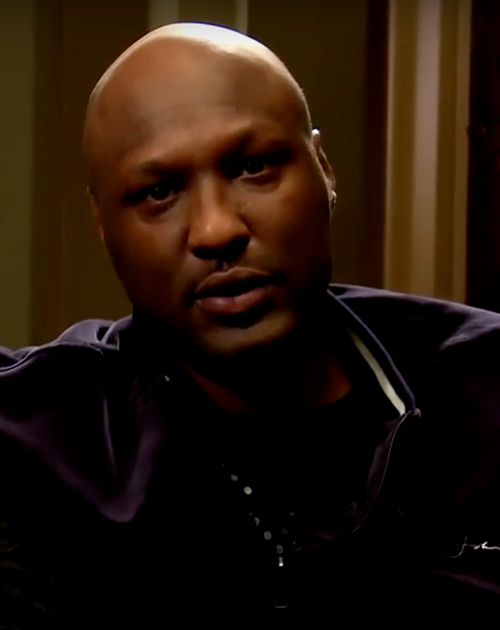 Lamar Odom has checked into rehab, but before he went in, he sat down for an interview where opened up about the night he nearly lost his life after overdosing on drugs. More inside…
Earlier this week, Lamar Odom voluntarily checked himself into rehab a little over a year after he almost died from a drug overdose inside a Nevada brothel. Sources say he did not relapse and that he decided to do it to "start fresh for the New Year."
Before he checked himself into rehab, he sat down with Dr Travis Stork from "The Doctors" where he opened up about his battle with drugs.
This is the first time the former NBA baller has spoken about his near fatal overdose that left him in a coma for weeks. In a preview for the interview, the 37-year-old revealed what triggered his overdose and based on what he said, it seems to have all stemmed from his relationship with Khloe Kardashian. He spilled,
"I wasn't in a good place mentally, especially mentally, before that incident happened. Me and my wife at the time were going through some things. I was in a dark place."
A seemingly sober Lamar shared his last thought on that night in October in his candid confessional saying, "Being in that damn brothel and thinking I was going to just rest a little bit."
He said when he woke up he realized he was in a hospital and that his ex-wife Khloe was at his bedside.
"I didn't know until Khloe had told me that I was in a coma. I couldn't even speak at the time. I couldn't talk. Nothing would come out when I would open my mouth, so I was scared."
Dr. Stork then asked Lamar if the rumors about him still being on drugs were true, but the clips cuts off there. Dr. Stork said he won't release the full interview until Lamar completes his stint in rehab.
Before "The Doctors" previewed the clip, it was leaked online and they came under fire for exploiting Lamar. Dr. Stork made it clear that he and his team tried to keep it under wraps because they want the best for the former NBA player.
"I had one goal and that goal was to get him into the car and get him to rehab," said Dr. Stork.
Peep the clip below: 
Lamar's rep also confirmed he's in rehab at a San Diego facility.
We wish nothing but the best for Lamar!
Photo: Screenshot