"Queen Sugar" hottie Kofi Siriboe got up close and personal with fans during a season finale watch party this week. This man...sheesh!
Peep the pics of Kofi mingling with fans, getting cutesy with his girlfriend (sorry ladies!) and find out what he said about taking a break from social media and jetting to Ghana when you go inside…
The season finale of "Queen Sugar" aired on OWN Wednesday night and lead star Kofi Siriboe hosted a watch party in Times Square.
The sexy actor mixed and mingled with fans signing autographs and snapping pics. Kofi's co-star Ethan Hutchison, who plays his on-screen son Blue in the drama series, was also in the mix. 
And he's not just sexy as all hell, he's a sweetheart too.  During the event, Kofi gifted a bouquet of flowers to Ghanaian model girlfriend Ebonee Davis (above). FYI -- She worked her modeling skills in the Yeezy Season 3 show.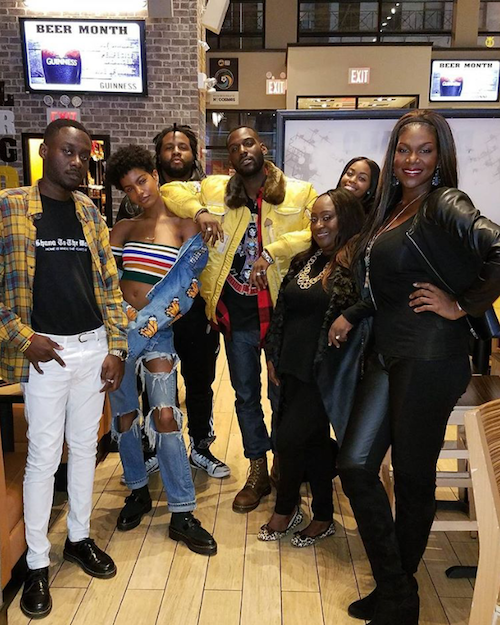 Sorry ladies! Kofi is off the market. He confirmed his relationship status in an interview in the November issue of InStyle magazine. 
As for that social media break, Kofi said he's taking some advice that Oprah gave him before "Queen Sugar" took off. He said he's taking a break from social media and will be traveling to Ghana for the first time to spend time with his family. He's of Ghanaian descent.
He wrote: 
Let me start by saying: I love you all, dearly. Thank you seems insufficient, but really, I don't know how else to express my gratitude. That being said; THANK YOU, TRULY, FOR THESE LAST FEW MONTHS! WHAT A F*CKN WAVE!

Oprah called me before the show aired in September and said, simply, "What's about to happen to your life is going to turn you upside down. If you're not careful, it can destroy you, Kof." I knew what she meant, but I didn't get the fullness of what she was saying until the journey began.

As artists, we give arbitrarily from the soul with no paradigm of sustainability. Such an exchange can leave you imbalanced, if not careful, as O said. There's no one but you to tell yourself enough is enough when it comes to self expression. It takes absolute awareness and stillness, through it all, to stay clear.
I thank God for sustaining me through the process. His presence is the only thing that allowed me to get through it. Now that S1 is over, I want to take some time away from social media to recalibrate myself and come back stronger for QS, S2.

I'm not going completely off the grid, but I will be stepping back to spend some quality time with my family these holidays. I'm going home to Ghana for the first time, y'all! Wow! My gratitude runs so deep. Keep me in your prayers, as I will do the same. Prepare yourself for the wave I'm bringing in 2017. No games being played. Much love, more life & talk sooner than later. — K.S.
We'll be waiting impatiently for his return.  Kofi and his castmates nabbed a Season 2 of the hit drama series and we can't wait!  
Photos: Kofi's IG/@eboneedavis/@k3pr