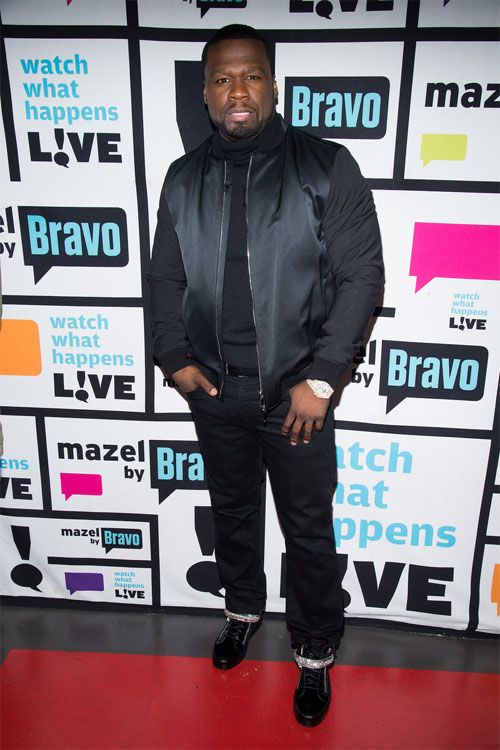 Exes 50 Cent and Vivica A. Fox are back at it again. And it's getting ugly. Go inside for the latest in their ongoing feud…
50 Cent is the King of Petty. So, it came to no surprise that he threw shade at his former girlfriend Vivica A. Fox during his appearance on "Watch What Happens Live" last night, especially since she had PLENTY to say about Fif during her last appearance on the show.
You'll recall, Vivica said her ex-boyfriend looked like a "booty snatcher" on the XXL magazine cover with rapper Soulja Boy, implying that he's on the down low.
So the "Power" star and producer, rocking a Hugo Boss jacket and Giuseppe Zanotti shoes, offered up a reason as to why she would think that. He started off firing shots at Viv, insinuating that she's washed up. "That's what happens when you get older in Hollywood," he said.
"WHHL" host Andy Cohen mentioned what Vivica said about 50's magazine cover and Fif responded,"I said to myself personally, I said 'Oh no, because I let her lick my ass she thinks I'm gay.'"
This is nothing new. Around this time last year, he posted up a photoshopped meme of Vivica licking his butt right after her "WWHL" appearance.
Peep the clip below:
After the show, Fif hopped on Instagram to throw more shade at Viv:
Per usual, Aunt Viv isn't keeping quiet. She clapped back at 50, challenging him to an open conversation on "WWHL" to finally squash their beef:
We doubt this will happen.  How old are we again?
By the way, we noticed Beyonce's mom Mama Tina liked the post. Tina and Vivica likely became pretty cool while she was visiting the Hallmark Channel set of her husband Richard Lawson's Holiday movie Vivica stars in called A Royal Christmas. 
Welp.
Photos: BRAVO/50's IG/Viv's IG